In the world of timepieces, few brands can capture the essence of vintage elegance quite like San Martin. Renowned for their exceptional craftsmanship and attention to detail, San Martin has once again delighted watch enthusiasts with their latest creation, the San Martin 6200 Retro Dive Watch SN004GA. This remarkable timepiece seamlessly blends classic design elements with modern functionality, making it a must-have for any watch collector or vintage enthusiast.
Vintage-inspired Design:
The San Martin 6200 Retro Dive Watch SN004GA draws inspiration from the iconic dive watches of the past. Its sleek and robust stainless steel case measures 40mm in diameter, offering a perfect balance between vintage charm and contemporary wearability. The watch features a striking black dial with luminous hour markers and hands, reminiscent of classic dive watches from the 1960s. The vintage-inspired design is further enhanced by the domed sapphire crystal, which adds a touch of elegance while providing excellent scratch resistance.
New Fly Adjustable Clasp:
One of the standout features of the San Martin 6200 Retro Dive Watch SN004GA is its innovative new fly adjustable clasp. This unique clasp design allows for easy adjustment of the bracelet length without the need for any tools. Simply slide the clasp along the bracelet to achieve the perfect fit, ensuring optimal comfort and a secure wrist presence. This feature makes the watch incredibly versatile, allowing it to be worn comfortably by individuals with varying wrist sizes.
Reliable Mechanical Movement:
At the heart of the San Martin 6200 Retro Dive Watch SN004GA beats a reliable mechanical movement, specifically the automatic Seiko NH35A movement. Known for its accuracy and durability, this movement ensures precise timekeeping and a power reserve of approximately 41 hours. Watch enthusiasts will appreciate the smooth sweeping motion of the second hand, a trademark of mechanical watches that adds to their allure.
Impressive Water Resistance:
As a dive watch, the San Martin 6200 Retro Dive Watch SN004GA boasts an impressive water resistance of up to 200 meters (660 feet). This makes it suitable for recreational diving and water activities, giving you peace of mind knowing that your timepiece can withstand the rigors of underwater exploration. The screw-down crown and case back contribute to the watch's exceptional water resistance, ensuring its reliability in any aquatic environment.
Attention to Detail:
San Martin is renowned for its meticulous attention to detail, and the 6200 Retro Dive Watch SN004GA is no exception. From the finely engraved case back to the intricate dial design, every aspect of this timepiece reflects the brand's commitment to excellence. The lume on the hour markers and hands offers excellent visibility in low-light conditions, while the unidirectional rotating bezel allows for easy tracking of elapsed time.
Versatile Style:
The San Martin 6200 Retro Dive Watch SN004GA effortlessly transitions from casual to formal occasions, making it a versatile addition to any watch collection. The classic black dial and stainless steel case lend an air of sophistication, while the robust construction ensures durability for everyday wear. Whether paired with a tailored suit or a casual ensemble, this watch is sure to make a statement.
Conclusion:
The San Martin 6200 Retro Dive Watch SN004GA is a testament to the brand's commitment to creating exceptional timepieces that blend vintage charm with modern functionality. With its vintage-inspired design, reliable mechanical movement, impressive water resistance, attention to detail, and versatile style, this watch is a true masterpiece. Whether you're a watch collector or simply appreciate timeless elegance, the San Martin 6200 Retro Dive Watch SN004GA is a worthy addition to your wrist.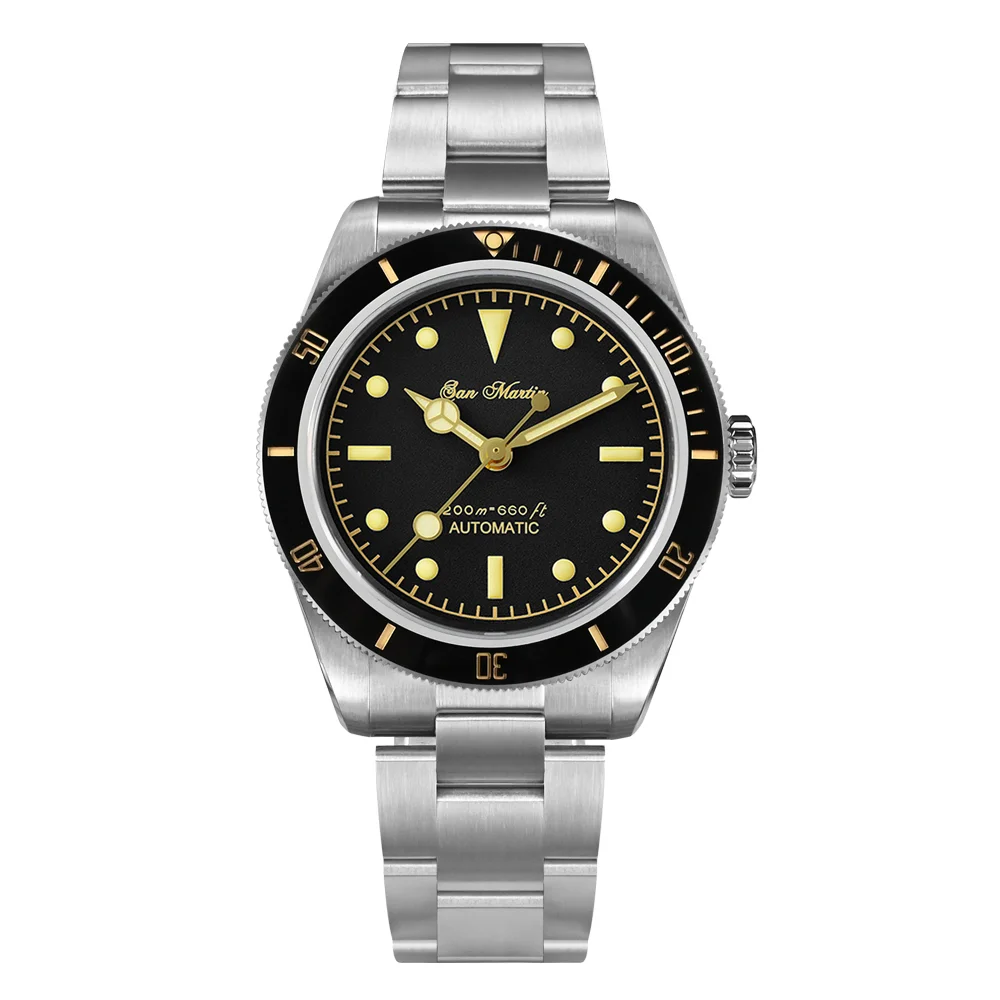 Brand: San martin
Model: SN004GA
Movement: JapanNH35 [Automatic mechanical movement]
Case material: 316L Stainless Steel
Caseback: Screw-in solid caseback
Bezel : 120 click unidirectional ceramic Bezel Insert
Watch mirror: Sapphire Crystal, imitating bubble mirror effect + Swiss AR COATING coating inside
Dial: Matte black dial + printed three-dimensional hour markers
Hands: batch flower hands plating gold
Luminous: Retro luminous effect (luminous color: yellow-green)
Crown: screw-in + hydraulic three-dimensional S logo
Watch strap: solid five-ball steel strap
Clasp: Folding Clasp With Safety, New Fly Adjustable Clasp,With San Martin Hexagon Logo
Waterproof: 200 meters waterproof
Watch Dimension:
Case diameter: 38mm( without crown)
Lug length: 46mm (upper lug to lower lug)
Case thickness: 13mm (including mirror)
Lug width:20mm