Hello everyone, in May 2018, I made the first generation of Rolex gmt model 6542, which is very popular with everyone. Now prepare the base of this style, (modify some details) to make a similar style.
The overall parameters of the watch, the lateral diameter of the case is still 40mm (bezel 41, which is more conducive to rotation), the longitudinal distance is 48mm (shorter size, more suitable for small wrists), and the thickness is 13.5mm.
Mainly talk about the details of the changes:
1. In terms of case craftsmanship, the structure of the ear surface has been changed, and the straight sand has no dead position, and the connection is smooth (the root sandblasting dead position cannot hit the sand before); the original polishing process of the body is now changed to the straight sand craft, Small bevel polishing, different from the straight sand process of the body and the ear surface, the contrast is higher and the process is more prominent; the cross section of the bar is changed to the arc-shaped hydraulic shark three-dimensional logo; the two-color red and blue sapphire outer ring has a luminous retro effect with the dial hour markers and hands Uniform luminous color.
2. In terms of dial craftsmanship, the logo is changed to our sanmartin swash font for a more retro effect, the time scale printing has canceled the golden sleeve, and the printing is superimposed in a pyramid shape, highlighting the three-dimensional effect.
3. In terms of hands, the overall appearance of the hands has not changed. The batch pattern is changed to the GS manual batch pattern process, and the electroplating is changed to a single hanging power to ensure flatness and gloss; the second hand and second cap are covered with a flat top second cap.
4. In terms of straps, the straps are still made of solid rivets and five baht straps. The side pieces and rivets are polished. The previous style watch friends reported that the scraping problem on the bottom edge of the piece was dealt with in time, the flat surface polishing was smoother, and the overall craftsmanship was improved.
In what I often say, my own cognition has improved, and the overall quality of the watch will also be improved and upgraded accordingly. (Looking back and comparing, in more than two years, it has indeed improved a lot. I am still very happy)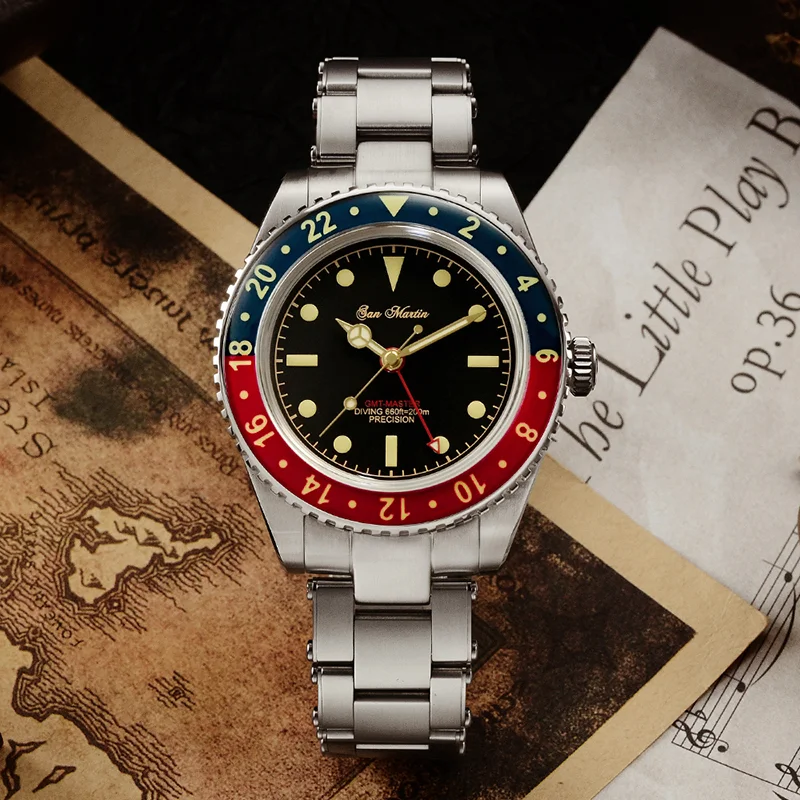 Watch Specification:
Model: SN005-G
Movement: Hangzhou 6460 movement [automatic mechanical movement]
Case: Material - 316L Stainless Steel
Table mirror: sapphire crystal mirror + pot cover bubble mirror effect, anti-reflection coating inside
Bezel: sapphire arc ring with luminous process printed on the inside
Dial: Matte black / enamel white dial + printed three-dimensional hour markers
Pointer: GS craft manual batch flower needle, second hand stamped with flat top second cap
Luminous: Retro Luminous Effect (Luminous Color: Yellow Green)
Crown: screw-in bar + hydraulic three-dimensional shark logo
Bottom cover: screw-in solid bottom cover
Strap: solid five-bead steel strap
Buckle: Solid Turtle Buckle
Waterproof: 200 meters waterproof
Water Resistant: 20Bar=200 meters
Watch Dimension:
Case diameter: 40.5mm( without crown)
Lug length: 48mm (upper lug to lower lug)
Case thickness: 13.5mm (including mirror)
Lug width:20mm
Weight: about 140g