The watch is probably the coolest accessory there is. What's even more fascinating is that even though its mechanics have undergone evolution through the years, most of the vintage designs are still used in the modern era. All thanks to the so-called 'movement'. If it's something that piques your interest, then read on, as we'll reveal everything you need to know about it.
The Inner Workings Of A Timepiece
The movement, often known as caliber, is the engine that drives the hands and other complexities of a clock. The kind of movement in a watch is usually unimportant to casual watch wearers. For watch collectors and aficionados, though, it's a huge concern since they value the artistry and inner workings that keep their timepieces ticking. Timepiece mechanisms have a variety of characteristics that captivate different types of watch buyers, similar to the performance differences in vehicle engines.The following will introduce several mechanical movements and their representative watches.
Explore The Various Types Of Watch Movements
PT5000 [Automatic mechanical movement]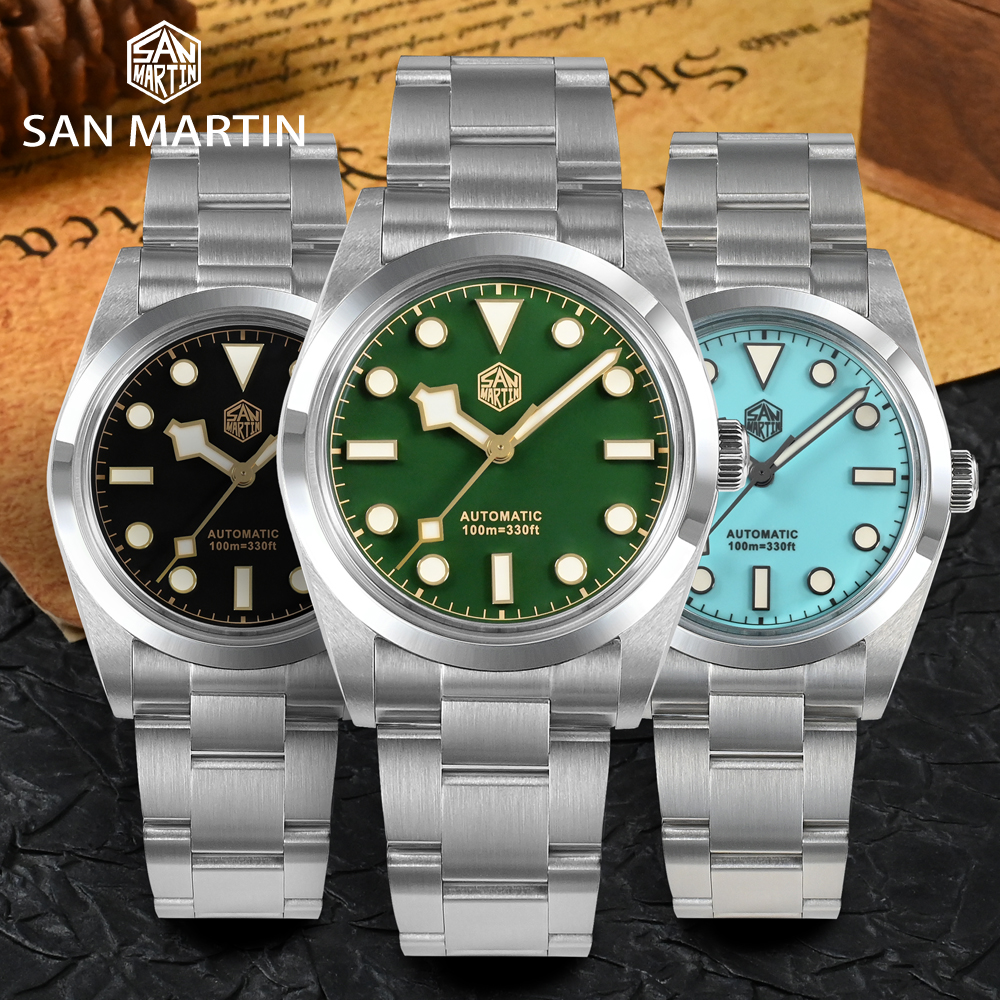 San Martin 36mm BB36 Explore Watch SN021-G-B3
Watch Specification:
Model:sanmartin SN0021-G-B3
Movement: PT5000/SW200 [Automatic mechanical movement]
Case: Material - 316L Solid Stainless Steel
Glass: Top Hat Sapphire Crystal Glass, AR Coating
Bezel: Stainless Steel Polished Bezel
Dial Color: Enamel Green/Matte Black/ Light Blue, 3D Hour Markers
Hands: Snowflake Hands Set, Luminous
Luminous: BGW-9 Blue Light, Hands and Markers
Crown: Screw-down Crown,With San Martin Hexagon Logo
Case Back: Screw-down Case Back, Brushed Process
Strap: 316L Solid Stainless Steel Bracelet,19mm * 16mm
Clasp: New Folding Clasp With Safety, With 3D Hexagonal Logo
Water Resistant: 10Bar=100 meters
Weight: about 126g
Bezel 36mm
37mm in diameter
Lug to Lug 45.9mm
Thickness 11.3mm
Band width 19mm
Weight: about 126g
SW200 [Automatic mechanical movement]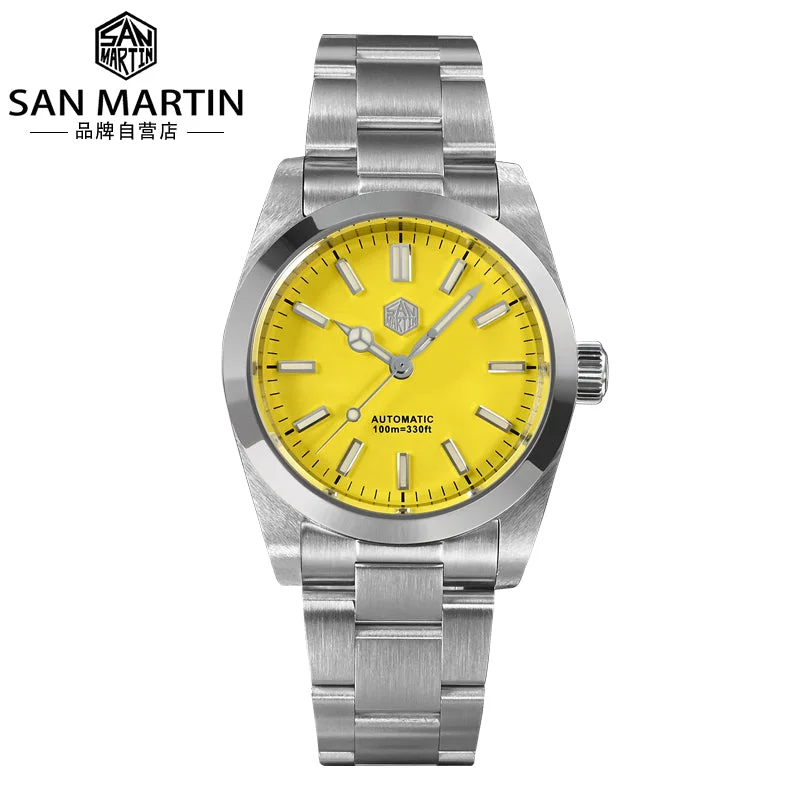 Watch Specification:
Model: sanmartin SN021-G-A2
Movement: PT5000/SW200 [Automatic mechanical movement]
Case: Material - 316L Solid Stainless Steel
Glass: Top Hat Sapphire Crystal Glass, AR Coating
Glass: Sapphire Crystal Glass, AR CoatingBezel: Stainless Steel Polished BezelDial Color: Light Blue/Orange/Yellow/Dark Blue/Green/Black, 3D Hour MarkersHands: Classic Hands Set, Curved Carving Craft hands, LuminousLuminous: BGW-9 Blue Light, Hands and Markers
Crown: Screw-down Crown,With San Martin Hexagon LogoCase Back: Screw-down Case Back, Brushed ProcessStrap: 316L Solid Stainless Steel BraceletClasp: New Folding Clasp With Safety, With 3D Hexagonal Logo
Water Resistant: 10Bar=100 meters
Watch Dimension:
Bezel: 36mm
Case: 37mm in diameter
Lug to Lug: 45.5mm
Thickness:11.3mm
Band width: 20mm
Weight: about 133g
YN55 [Automatic mechanical movement]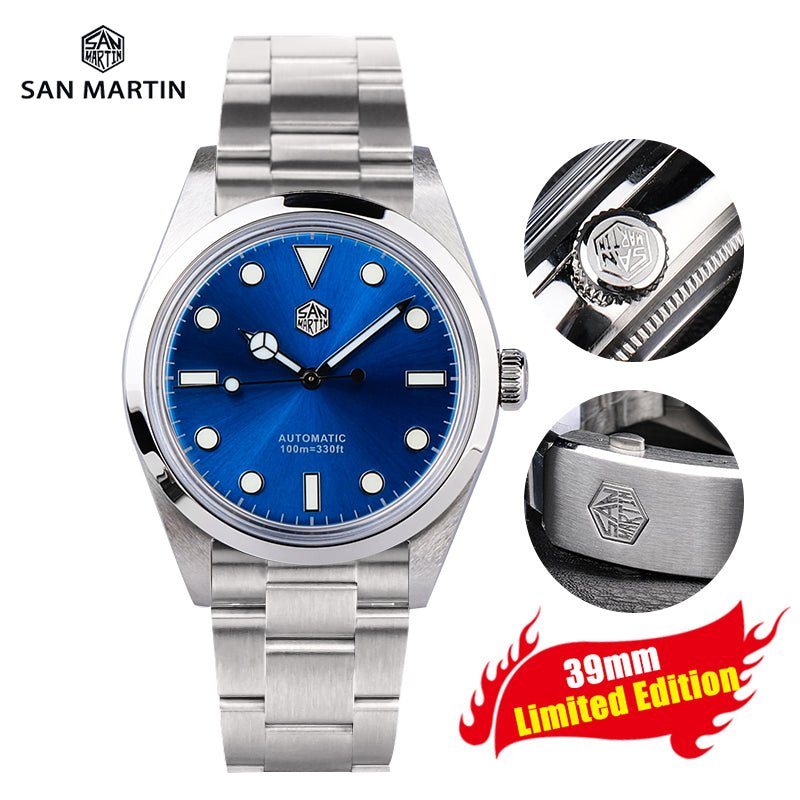 Watch Specification:
Model: SN020-G Limited edtion
Movement: YN55 automatic movement
Case: Material - 316L Stainless Steel
Glass: Sapphire Crystal Glass, Swiss AR Coating
Bezel: Stainless Steel Polishing Bezel
Dial Color: matte Black or sunburst blue with applied indices
Dial Hands: Curved Carving Craft hands, Luminous Coating
Luminous: Sub Dial: BGW9-blue lume.
Crown: Screw-down Crown
Case Back: Screw-down Case Back, Brushed Process
Strap: 316L Stainless Steel Oyster Bracelet
Resistant: 10Bar=100 meters
Watch Dimension:
Case diameter:39 mm (without crown)
Case length: 47.5mm( lug to lug)
Case thickness: 12.5mm
Lug width 20mm
Weight: about 138g
Japan NH35 [automatic mechanical movement]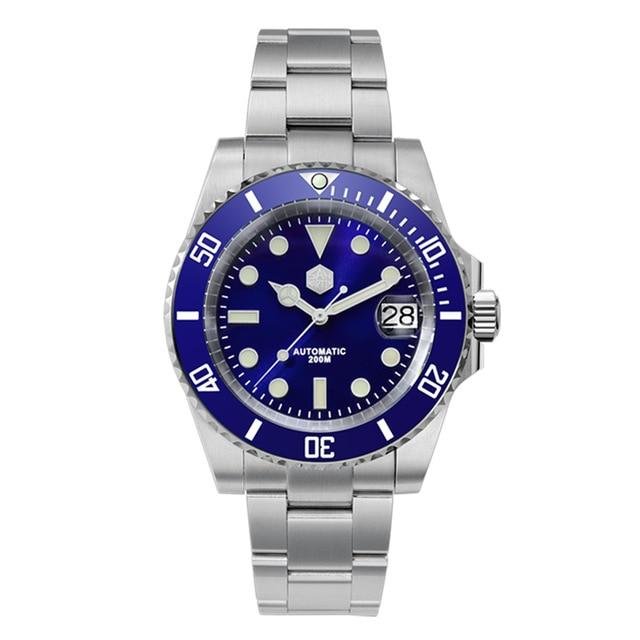 Watch Specification:
Model: SN017-G-V3
Movement: Japan NH35 [automatic mechanical movement]
Case material: 316L Stainless Steel
Glass: Sapphire Crystal with AR coating
Date Window Convex Mirror(2.5 times amplification effect)
Bezel: 120 Clicks Unidirectional Chronograph Bezel,
Ceramic Top Ring, 12 O'clock Luminous Markers
Dial Color: 3D Hexagon Applique Logo,
Hands: Steel Hands, Luminous Coating
Luminous: BGW-9 Blue Light, Hands and Markers
Crown: Screw-down Crown, With S logo Logo
Case Back: Screw-down Case Back, Brushed Process
Water Resistant: 20Bar/200 meters
Watch Dimension:
Case diameter: 40.5mm( without crown)
Case Length:48mm(lug to lug)
Case thickness: 13mm (including mirror)
Lug width:20mm
Seagull ST1901 [Manual mechanical movement]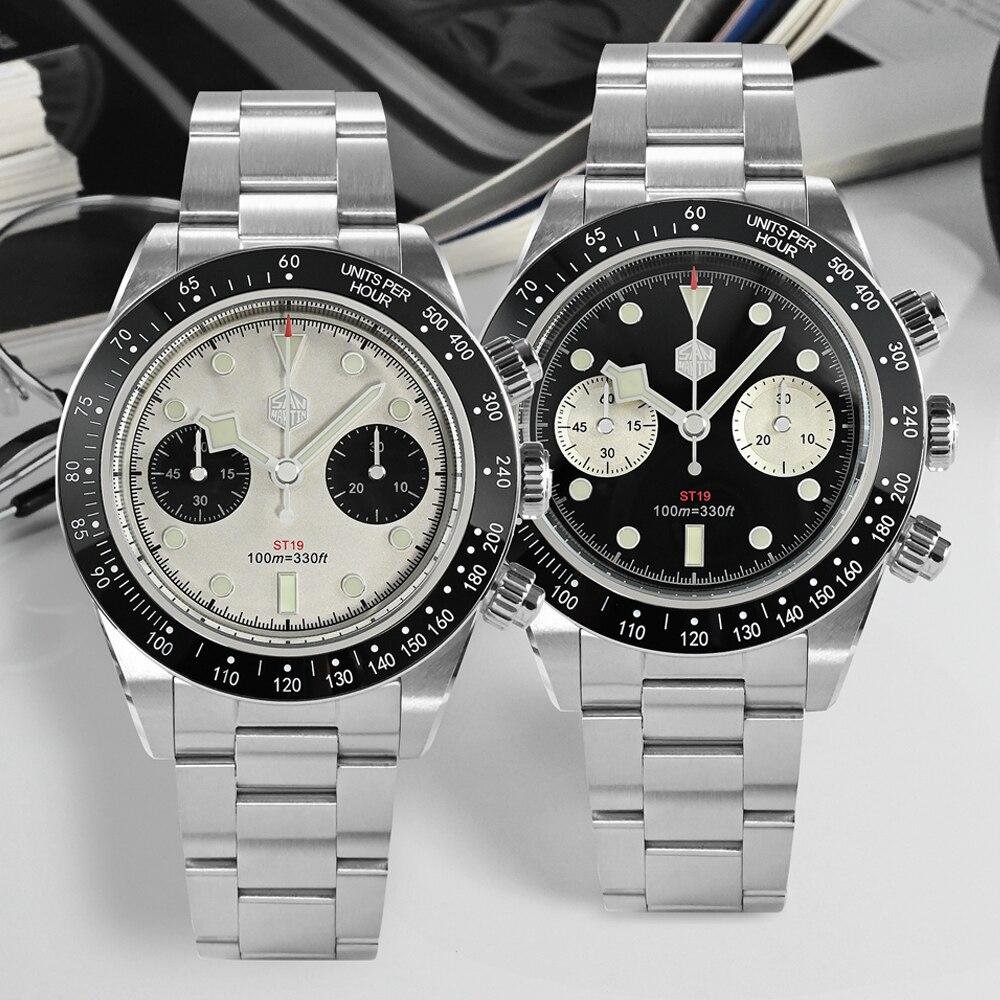 Watch Specification:
Model: SN052-G-JS
Movement: Seagull ST1901 [Manual mechanical movement]
Functions: Centre hour, minute and seconds hands, small seconds hand at 9 o'clock.
Chronograph (centre hand), 30-minute counter at 3 o'clock and 60-seconds counter at 9 o'clock.
Stop seconds for precise time setting
Glass: Sapphire Crystal , AR Coating
Bezel: Ceramic Chronograph Bezel
Dial Color: Black Panda, White Panda, Hexagon Applied Logo
Hands: GS Crafts Snowflake Hands, Luminous Coating
Luminous: Retro Luminous Effect SLN C3 Green Light, Hands and Markers
Crown: Push Pull Crown, With 3D "S" Logo
Case Back: Screw-down Case Back, Brushed Process
Strap:316L Solid Stainless Steel Bracelet
Clasp:Folding Clasp With Safety,With San Martin Hexagon Logo
Water Resistant: 10 Bar=100 Meters
Watch Dimension:
40mm in diameter
Bezel 41mm
Lug to Lug 49.5mm
Thickness 14mm
Band width 20mm
Weight: about 159g
Miyota 8215 [Automatic mechanical movement]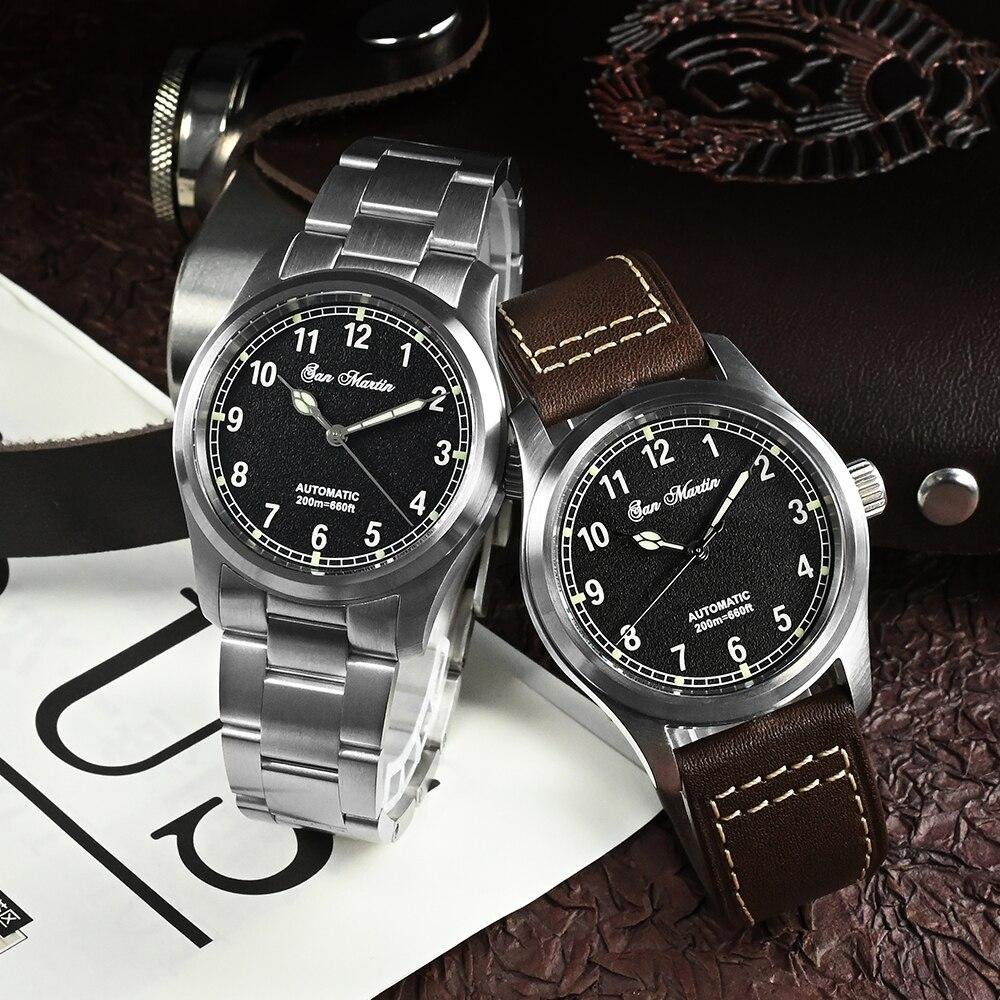 Watch Specification:
Model: SN034-G1
Movement: Miyota 8215 [Automatic mechanical movement]
Case: Material - 316L Stainless Steel
Glass: Sapphire Crystal,AR Coating
Dial Color: B-Black,Oil Pressure Fire Pattern Black Surface
Hands: Luminous hands
Luminous: SLN C3 Green Light + BGW-9 Blue Light, Hands and Markers
Crown: Screw-down Crown, With 3D San Martin Hexagon Logo
Case Back:316L Stainless Steel, Screw Case Back
Strap: Female Endlinks, 316L Stainless Steel Bracelet/Leather,
Width 20mm
Clasp: Folding Clasp With Safety,With Hexagon Logo;Buckle
Water Resistant: 20Bar=200 meters
Watch Dimension:
37mm in diameter
Lug to Lug 45 mm
Thickness 11.5mm
Band width 20 mm
Weight: about 145 g/57g
Miyota 9015 [Automatic mechanical movement]