Hello everyone, today I would like to share with you the introduction of the new SN0108. This watch is made with reference to the French Navy replica of the Longines shell. It is also a relatively classic niche style. I checked the information on the Internet. The domestic counters are not on sale. I only read the articles of two watch friends in the watch home.
The following is a detailed introduction of our own craftsmanship, or the overall reference while adding some of our own designs. In terms of case: 1. The original bezel is relatively thin, and the upper step is flat and inclined. The bezel we made is relatively thicker, and the two steps are arc-shaped (just echoing the effect of the bottom cover). The original mirror is made more For the Gauguin picture, we made it relatively low to echo the effect of the bezel. From the side, the effect image is the same as three steps; 2. The original version of the bar is 8.0mm, and we shrink it to 7.0mm; 3. The bottom cover is polished The method is to straighten the sand on the original bottom cover, and the round sand effect we made (at first I thought the original bottom cover was a denture bottom, and the bottom was pressed on, because my bottom cover is very straight. The bottom of the tooth is determined only if it is oblique). In comparison, if the bottom cover cannot be guaranteed to be straight, I personally feel that the effect of making round sand is better than oblique straight sand; I made complaints about Longines' craftsmanship on the inner side of the original ear without any treatment. I simply scanned the embryonic pattern and it was still there. We also spent a lot of effort on polishing and polishing.
On the dial: the font of the Arabic numerals has been modified, and it is a little bit longer than the original version; there is also the distance between the opening face and the end of the line. The distance between the opening face and the end of the line is relatively large in the original version. I feel that the effect is not ideal. In addition, I makes the material relatively white, and it is obvious that white affects the look and feel when viewed from the front.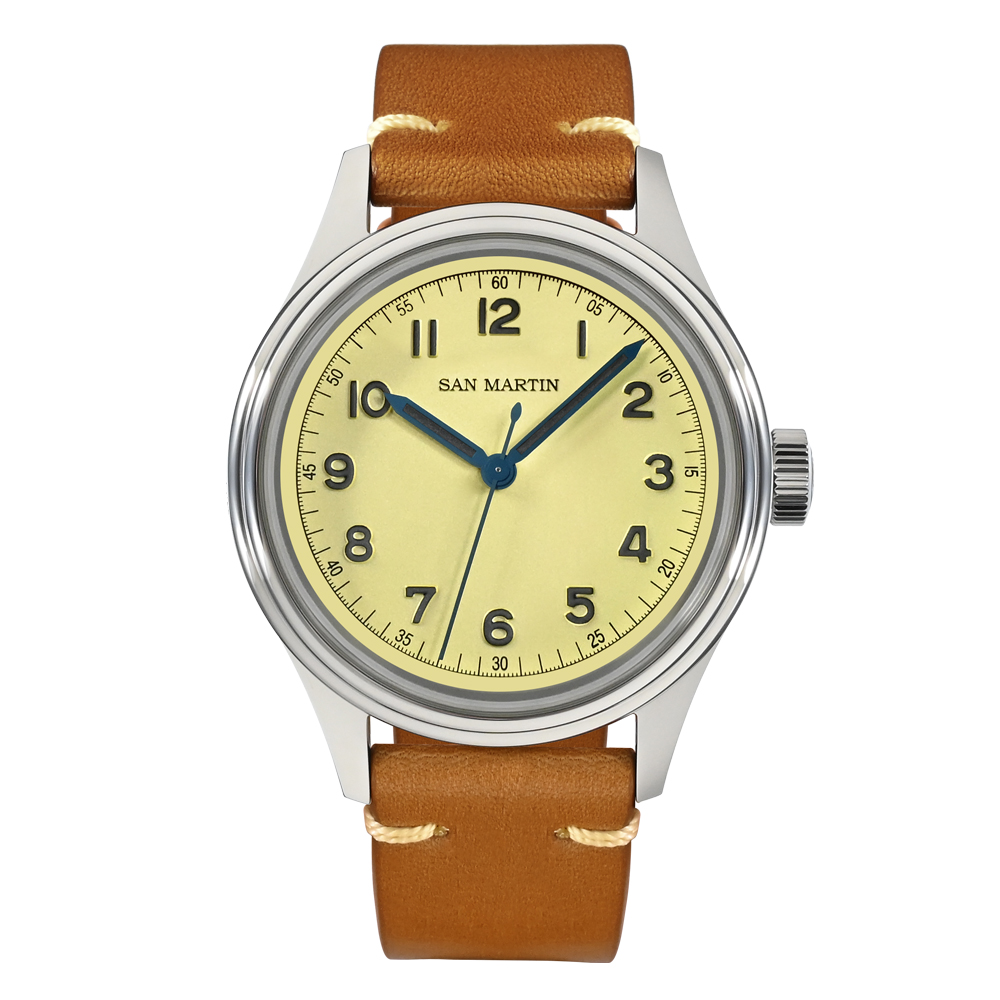 San Martin 38.8mm Pilot NH35 Vintage Military Watch SN108-G
Watch Specification:
Brand: San Martin
Model: SN0108-G
Movement: NH35 [Automatic mechanical movement]
Is Support Custom Logo: Yes
Case: Material - 316L Solid Stainless Steel
Glass: Sapphire Crystal Glass, AR Coating
Dial Color: Light Yellow
Hands: Baked Varnish Blue Hands, Perfect Details
Crown: Push-pull Crown, With 3D Hexagonal Logo
Case Back: Screw-down Case Back, Brushed Process
Strap: Quick Release High Quality Leather Strap,Size 19mm *18mm
Clasp: 316L Solid Stainless Steel Buckle,With 3D Hexagonal Logo
Water Resistant: 10Bar=100 meters
Watch Dimension:
Case 38.8mm in diameter
Lug to Lug 48.5 mm
Thickness 12mm
Band width 19mm
Weight: 65g