Hello everyone, today I would like to share with you the new SN0075C style. In fact, I made the SN0075 last year. This time, the SN0075C mainly changed the movement. It was originally a sports style. Now the SN0075C is a gmt dual time zone style.
Maybe many watch friends will first think of PP Nautilus when they see this style, with double shoulder guards on the case and a "square and round" bezel. It can be regarded as an overall reference, but also add your own design. Let's talk about the details of changing the design below:
1. The overall style, although the Nautilus is also a sports style, but the overall design is very thin, the lines of the case and strap are also curved, and the style is more artistic; our SN0075C style has straight lines and bevels, and the style is more tough .
2. The structure of the bezel. The outer and inner rings of the Nautilus are both "square and round" in shape. Our outer ring is made of a "square and round" shape and the inner ring is round. The original mirror is fixed by shadowless glue. We are an I order structure, we pay more attention to the waterproof level, and we make a 100-meter waterproof structure.
3. The case structure, the Nautilus case is a two-piece split structure, and our case is a one-piece structure. PS- Let me talk about my views on the one-piece structure and the split structure. The split structure is to simplify the difficulty of grinding or to do some grinding methods that cannot be done in one piece. However, the split structure is always waterproof and stronger than the one-piece structure. It will be slightly worse; the strength of the one-piece structure will definitely be better, but some grinding will be more difficult.
One that I personally like very much, the case strap can reflect the polishing level very much. I hope everyone can recognize it, and I will try to derive different collocation style effects on the basis of this shell later.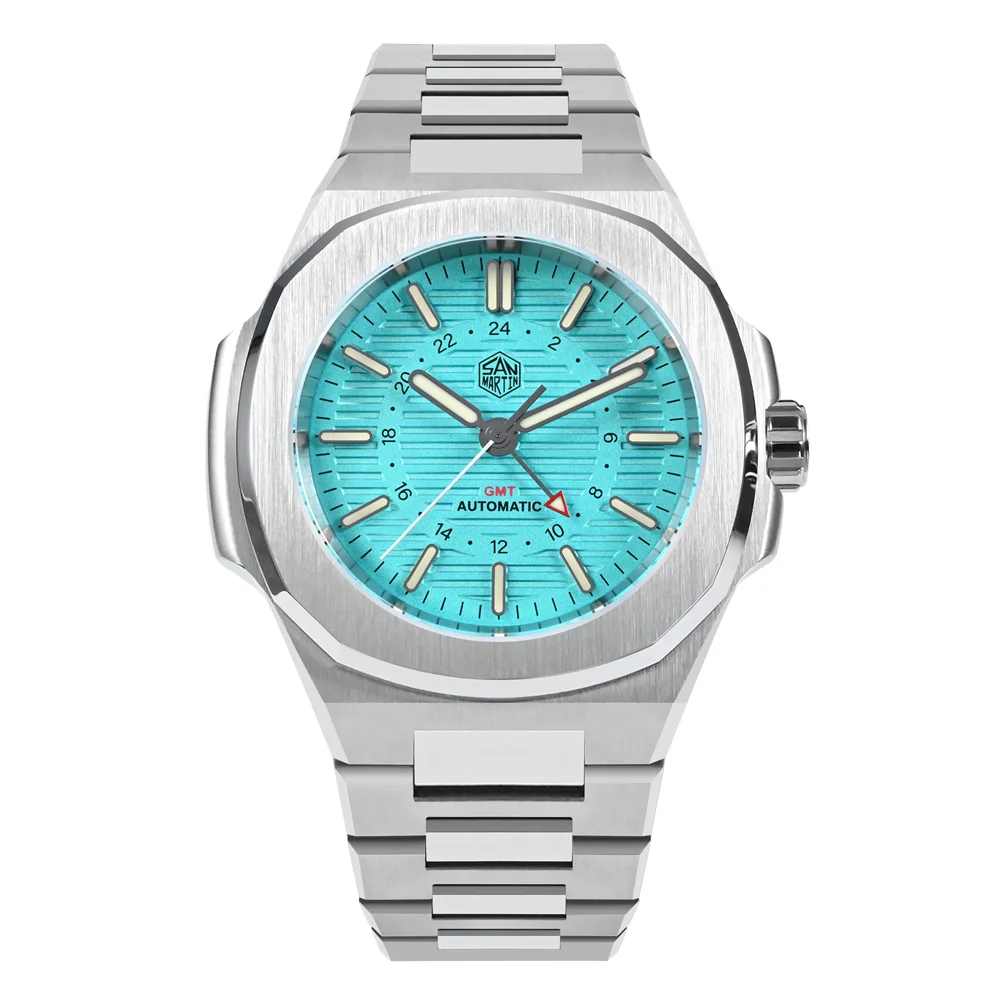 San Martin 43mm GMT Classic Business Luxury Watches SN075
Watch Specification:
Model: SN075-G
Movement: Hangzhou 6460 [Automatic mechanical movement]
Is Support Custom Logo: No
Case: Material - 316L Stainless Steel
Glass: Sapphire Crystal Glass, AR Coating
Dial Color: Sunray Green/Sunray Blue/Sunray Light Blue
Printed Hexagon Logo,Horizontal Stripes
Hands: GMT 4 Hands , Luminous Coating
Luminous: BGW-9 Blue Light, Hands and Markers
Crown: Screw-down Crown, With 3D Hexagonal Logo
Case Back: 316L Stainless Steel, Screw-On Back Case Back
Strap: Solid 316L Stainless Steel Bracelet ,24mm*18mm
Clasp: Butterfly Clasp/ Push Button Hidden Clasp
Water Resistant: 10Bar=100 meters
Watch Dimension:
Case diameter:43mm (without crown)
Case length: 46.5mm( lug to lug)
Bezel: 38mm
Case thickness: 11.7mm
Lug width 13mm
Weight: about 168g