Today I would like to share with you the new style - "Bronze Abalone"
Today, I mainly introduce some differences between bronze and steel models. I personally think that choosing bronze watches is more about playing a "retro" feeling. Bronze materials are constantly oxidized anytime and anywhere. The effect of oxidation and the environment and wearer's wearing habits There is a certain relationship. It can be said that each bronze watch is unique and belongs to the exclusive watch friend. Some corners will have a touch of "patina", which is also what many bronze watch fans look forward to.

There are many ways to play bronze, such as natural oxidation, blackening liquid to make old, salt water to make old and so on.
Let's briefly talk about this production process, the body polishing process, the drawing process of the shell bottom and shell surface, and the round sand on the ear surface. The clear line of "no base and no hand" can also be clearly reflected on this bronze case (whether the junction between polishing and wire drawing is clear is enough to cross the boundary and can be used as a criterion for judging the quality of this case), The oil-pressure three-dimensional shark logo that the bottom cover and the Baji have always used (the Baji has a very high requirement to make a shark logo, you can see the teeth and eyes with a magnifying glass), a standard belt model, and a quick-release ear (open and close ear) convenient watch You can replace the strap by yourself. The buckle is different from the general-purpose model in the market. We independently mold the solid buckle and sand it as a whole. The chronograph ring is made of CUSN8 tin bronze material of the same material as the case. There are 12-bit single-point luminous and full luminous to choose from. On the basis of the original black dial, the new enamel sun-patterned blue and green dials are added, and the retro yellow luminous light is used to match the whole (C3 color tone).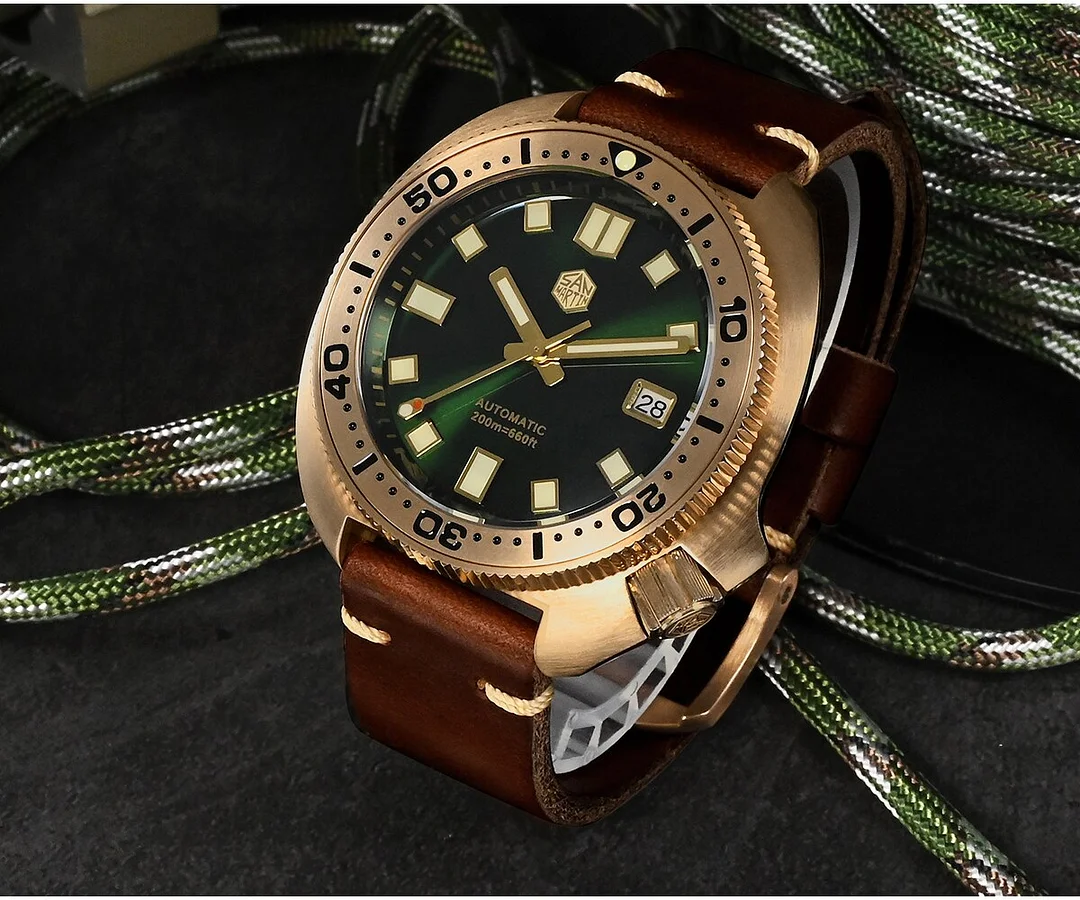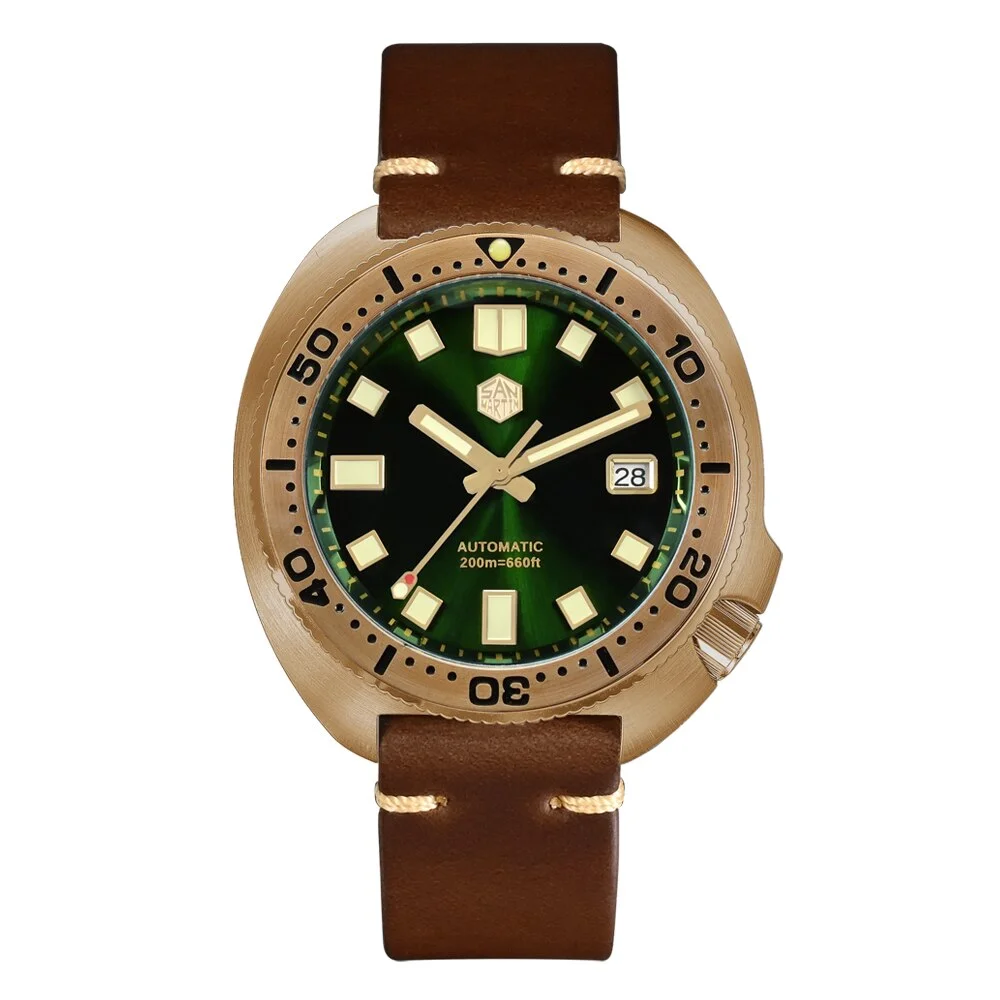 Watch Specification:
Model: SN047-Q V4
Movement: Time Module NH35A [automatic mechanical movement]
Glass: Micro Convex Sapphire Crystal, AR Coating
Bezel: 120 Clicks Bronze Bezel
Dial Color: Enamel Blue Sunray, Enamel Green Sunray, Black Sunray, 3D Hexagon Metal Applique Logo
Hands: Middle Brushed Process, Batch Bevel On Both Sides,Luminous
Luminous: SLN C3 Green Light, Hands and Markers
Crown: CUSN8 Bronze Screw-down, With San Martin Hexagon Logo
Case Back: Screw-down Case Back, Brushed Process
Strap: Quick Release Spring Bar Horween Leather Strap/ Fluoro Rubber Strap, Width 20mm
Clasp: CUSN8 Solid Bronze Buckle
Water Resistant: 20Bar=200 Meters
Watch Dimension:
Case diameter: 44mm( without crown)
Case length: 47mm (lug to lug0
Case thickness: 13.3mm
Lug width:20mm
Weight: With Leather Strap about 125g/With Rubber Strap about 146g