Hello everyone, today I would like to introduce to you one of our spot products. Bronze Rolex Water Ghost style, this one has been done a few times before, this time the change is relatively big compared to the previous style, and I will share it again.
Regarding watchmaking, the most common sentence I say now is "try to make the product as satisfactory as possible within the scope of my knowledge at the time".
Compared with the previous one, this one has obvious improvement in detail technology. The following are the details:
1. For big body to hit the world sand, we use the special grinding wheel for the world sand grinding wheel, with thick lines, each sand pattern is clear and distinct from the top to the bottom, which is different from the conventional grass wheel sanding effect. (Because there is a pig's mouth (shoulder guard position) in the direction of 3 o'clock, the handover of straight sand and pig's mouth polishing is not in place, which affects the details of the process. (Public knowledge: horizontal sand is generally called straight sand or horizontal sand, vertical sand It is called Tiandi sand) The ear surface is straight sand, the sand pattern is smooth, clear and not messy, and there is no dead angle where the sand cannot be hit, and the junction between the ear surface and the big body is clear and not out of bounds; The sand and the dead part of the included angle are also polished; the straight sand on the case surface and the polished junction of the pig's mouth are clearly visible, which is the embodiment of a little detail of this case; The high-magnification magnifying glass of the grained sand line is well-proportioned (also a detail of the case craftsmanship).
2. The dial is different from the previous printed hour markers. This time, it is changed to a metal word nail hour marker, which is electroplated with gold and has a concave filling with luminous process design.
3. Hands, Lautong style Bu-shaped hand craftsmanship, second hand mushroom head second cap.
4. Luminous, the original retro luminous (yellow-green light) is changed to the current BGW-9 luminous (blue light).
5. The strap is still made of our more mature suede strap, which is made by a half-folding process, and the interlayer ensures the strength.
6. The movement, the movement is changed to Tianmadu NH35 movement, which reduces the cost and allows everyone to experience the high craftsmanship while keeping the price as low as possible.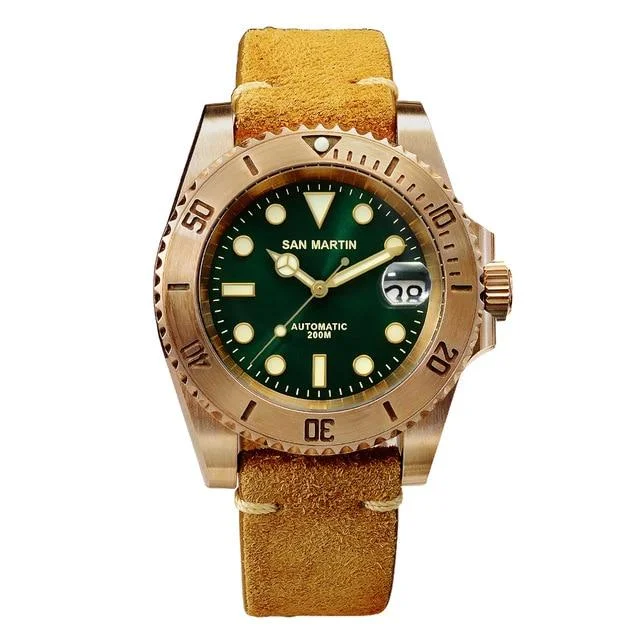 Watch Specification:
Model: SN017Q-35
Movement: NH35A [Automatic Mechanical Movement]
Case: Material-CuSn8 tin bronze
Mirror: sapphire crystal, Cyclops at date window position
Bezel: Bronze bezel, luminous indication at 12 o'clock
Dial: Green/Black/Blue and Kanagawa Surfboard optional
Hands: Bronze hands, filled with luminous
Luminous: Retro BGW-9 Super Luminous (Glow Color: Blue)
Crown: screw-in diameter 7mm
Caseback: Screw-in Caseback
Strap: first layer cowhide, hand-turned fur strap, width 20*18mm
Buckle: CuSn8 tin bronze pin buckle
Waterproof: 200 meters waterproof
Watch Dimension:
Case diameter: 40.5mm(excluding crown)
Case length: 48mm (lug to lug)
Case thickness: 13mm
Lug width:20mm