Today, I would like to introduce the GMT red and blue ceramic ring. So far, the red and blue ceramic ring that can be seen in the world is still very rare. At present, there seems to be no other brand in the well-known brand watch that uses the red and blue ceramic ring. Brands have their own design concepts, but I personally feel that in comparison, the performance of ceramics in all aspects is significantly better than that of aluminum rings (currently used materials for red and blue rings). In general, the red and blue ceramic ring still has certain difficulties.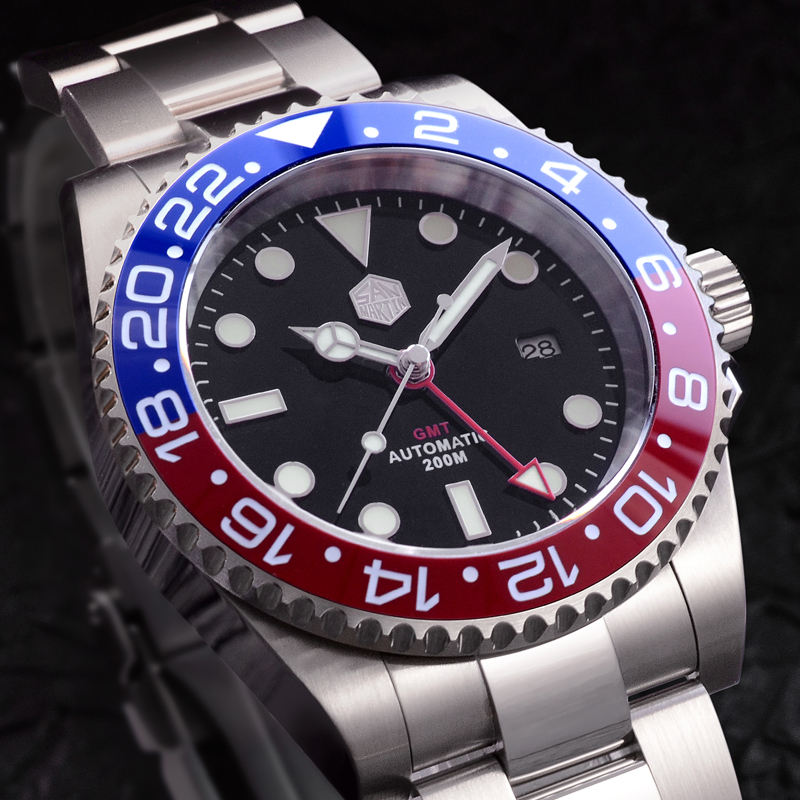 Share the difficulty of San Martin GMT Diver Luxury Mechanical Watch SN016 the red and blue circles with you
1. San Martin GMT Diver Luxury Mechanical Watch SN016 adjustment of the red color, among the watch accessories, the ceramic ring should be the most difficult, because the powder is one color, and the finished product is a completely different color, so it is necessary to burn a beautiful red Trial and error requires relatively high development costs.
2. San Martin GMT Diver Luxury Mechanical Watch SN016 splicing of the two-color circle, the two colors are seamlessly spliced together, and the ceramics are generally powdered and glued together (similar to the molecular structure glued together). Because the temperature of the finished product is different for different powders, the temperature difference of tens of degrees will affect the effect of the finished product and the color effect. Previously, I communicated with the owner of the ceramic factory that the temperature difference between red and blue fired products is about 200 degrees, so we need to overcome the temperature difference of 200 degrees in order to produce a finished two-color circle. We do not know this technical problem.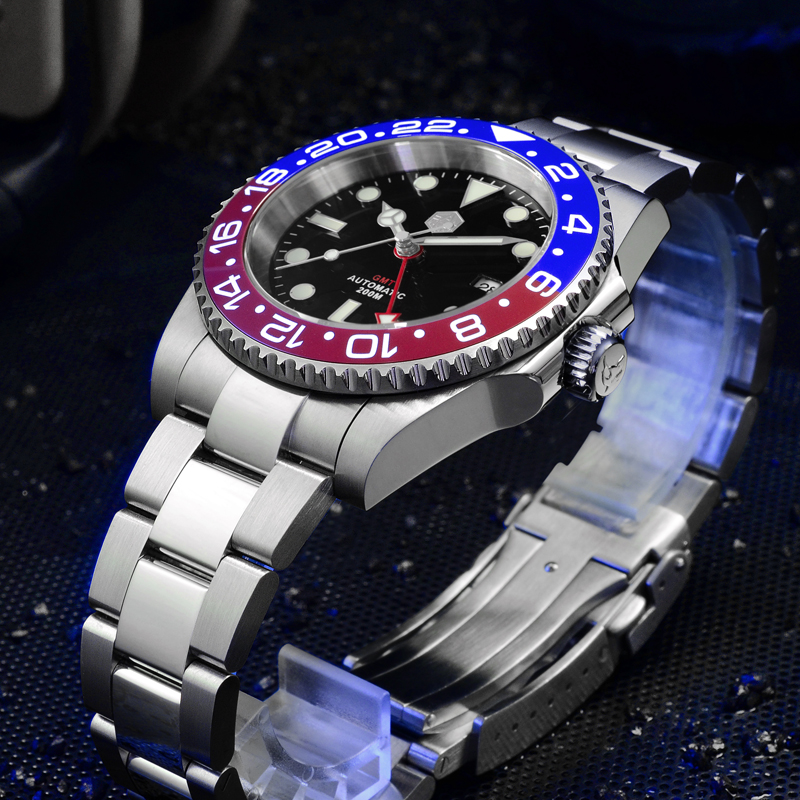 I learned about the red and blue ceramic rings as early as two years ago. In fact, the domestic technology at that time was immature (there is a simple way to make the blue ring, remove the upper half of the ring and stick the red on it, and then stick it after the finished product. On the one hand, the red effect is too thin, on the other hand, there are obvious gaps at the junction of red and blue).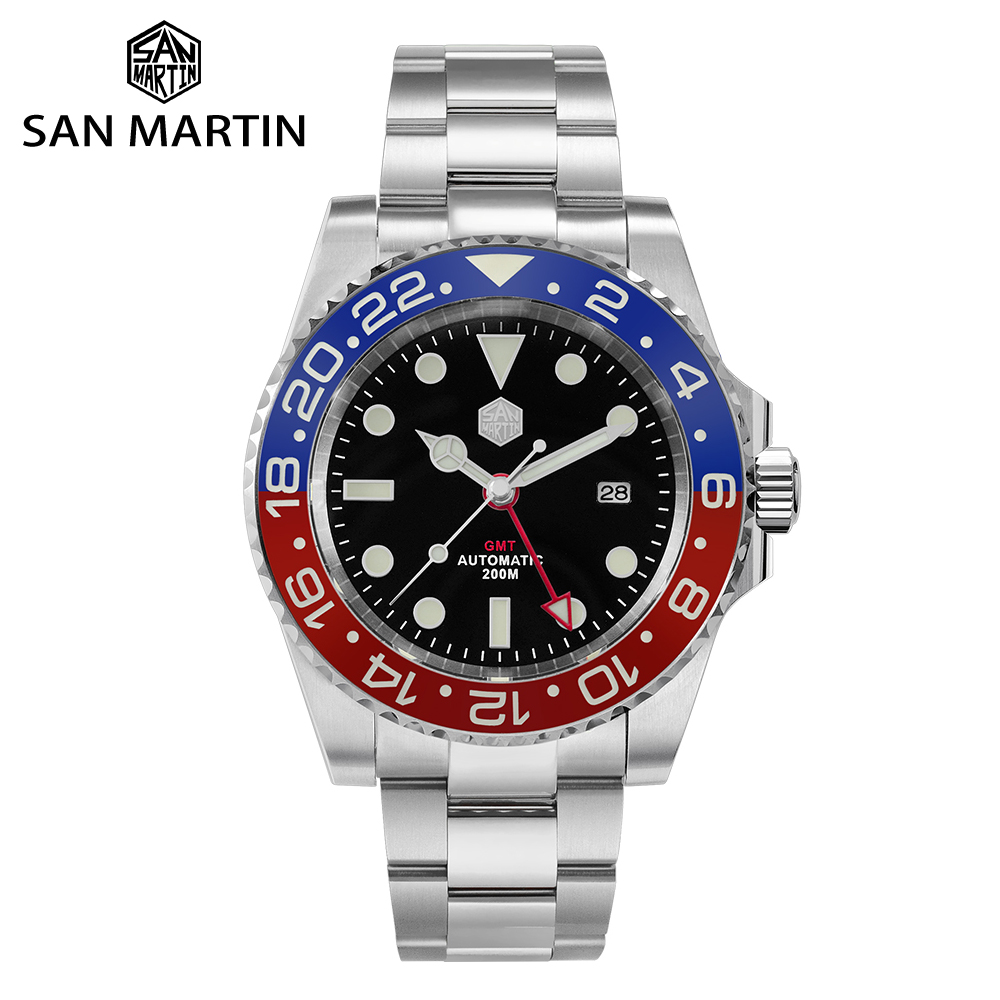 San Martin GMT Diver Luxury Mechanical Watch SN016
Watch Specification:
Model: SN016-G-GMT
Movement: Movement: Hangzhou 6460 [Automatic mechanical movement]
Jewelry: 25 Frequency: 28800/h
Case material: 316L Stainless Steel
Glass: Sapphire Crystal, Swiss AR Coating
Glass: Sapphire Crystal Glass, Swiss AR Coating
Bezel: Red Blue Ceramic Bezel, Black Red Ceramic Bezel, Black Blue Ceramic Bezel
120 Clicks Unidirectional Chronograph Bezel, Pepsi Ceramic Bezel,
Full Luminous Markers
Dial Color: Black
Hands: 4 Hands, Luminous Coating
Luminous: Full Lume BGW-9 Super Lume, Blue Light, Hands and Markers
Crown: Screw-down Crown, With 3D Shark Logo
Case Back: Screw-down Case Back, Brushed Process
Strap: 316L Solid Stainless Steel Bracelet, The Middle Part Of The Link Has Been Polished.
Clasp: Folding Clasp With Safety,With San Martin Hexagon Logo
Water Resistant: 20Bar=200 meters