Hello everyone, today I will introduce SN0026A to you. This watch is similar to the SN0026 style, and it is also the theme of "square and circle". This style is a more classic style of the Middle Ages, and it is more representative that "Eterna released a tribute to this time-honored watch under the Heritage Military 1939 series."
We refer to this style as a whole. We also made our own matching in details. The lugs are our own original design, and we can match different craftsmanship. There is also a polishing process at the first level. Here, it is specially explained that the polishing process of this watch is most reflected in the polishing process of the four bevels of the case. Lightly buffing, that is, "mirror / zaratsu polishing" that big brands often say, many relatively less demanding ones are hemp wheels, and the coarse grinding of the wire wheel is better than that of the cloth wheel, so that there is no sense of line. The requirements for such a large plane to be flat and to maintain a symmetrical disc drive are relatively high, and those who are interested can understand it. There is still a big difference between the two grinding methods in physical comparison. The font we matched with the dial has no specific reference to which one, the classic Arabic numerals, and the embossed C3 luminous, which fully guarantees the luminous brightness. The classic "gas needle" is also called "snake head needle" by many watch friends.
SN0026B is a relatively small semi-original design. The overall workmanship is still quite satisfactory. I hope everyone likes it.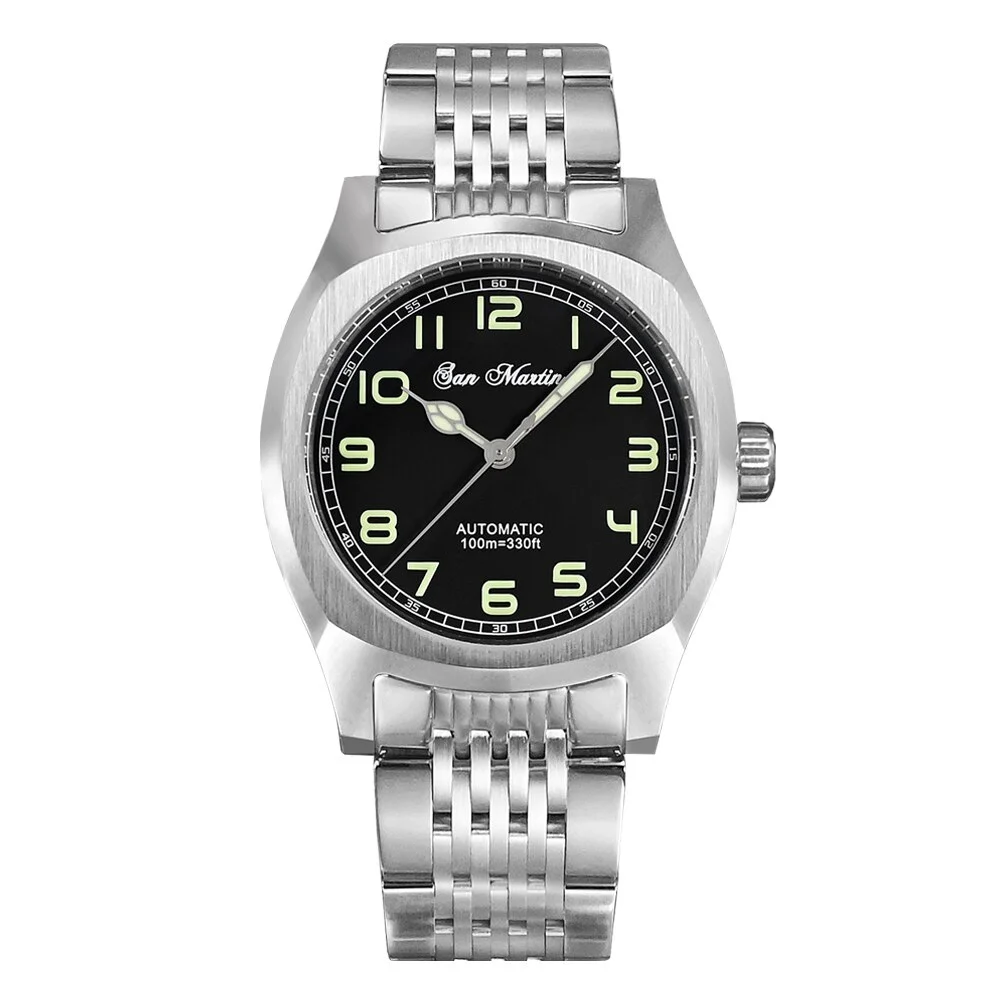 San Martin Men 38mm Original Design Square Watch SN0026
Watch Specification:
Model: SN026-G-A
Movement: PT5000/SW200 [Automatic mechanical movement]
Case: Material - 316L Stainless Steel
Glass: Double Curved Sapphire Crystal Glass, Blue Light AG Coating
Dial Color: A-Black,Oil Pressure Fire Pattern Black Surface
Hands: Hands With Curved Snake Head Shape, Luminous hands
Luminous: SLN C3 Green Light
Crown: Screw-down Crown, With 3D San Martin Hexagon Logo
Case Back: 316L Stainless Steel, Screw Case Back
Strap: 9 Links 316L Solid Stainless Steel Bracelet
Clasp: Folding Clasp With Safety,With San Martin Hexagon Logo
Water Resistant: 10Bar=100 meters
Watch Dimension:
38mm in diameter
Lug to Lug 47mm
Thickness 11.2mm
Band width 20mm
Weight: about 158g