Hello everyone, today I would like to introduce to you an original diving watch of my own.
The design concept of this watch - simple and practical (all designs revolve around this point of view)
The watch has a diameter of 40mm and a length of 48mm, which is in line with the wearing size of most watch lovers. The weight of the whole watch is about 108g, which ensures long-term wearing comfort. The appearance design is simple and concise, the lines are clear and clear, the overall sanding appearance process, the body and the inner side of the ear are sandy, the ear surface and the chronograph ring are rounded, the 8mm diameter large crown is easier to operate, and it is used as a shoulder pad to protect the crown and crown. And the bottom cover continues the three-dimensional hydraulic shark logo that has been used.
The dial hour markers use Arabic numerals and are printed with a three-dimensional luminous effect, which is clear and easy to read.
The hands are sword-shaped needles and large-area luminous windows, which fully guarantee the luminous brightness and easy-to-read time characteristics. With imported rubber strap, you can swim and play at any time.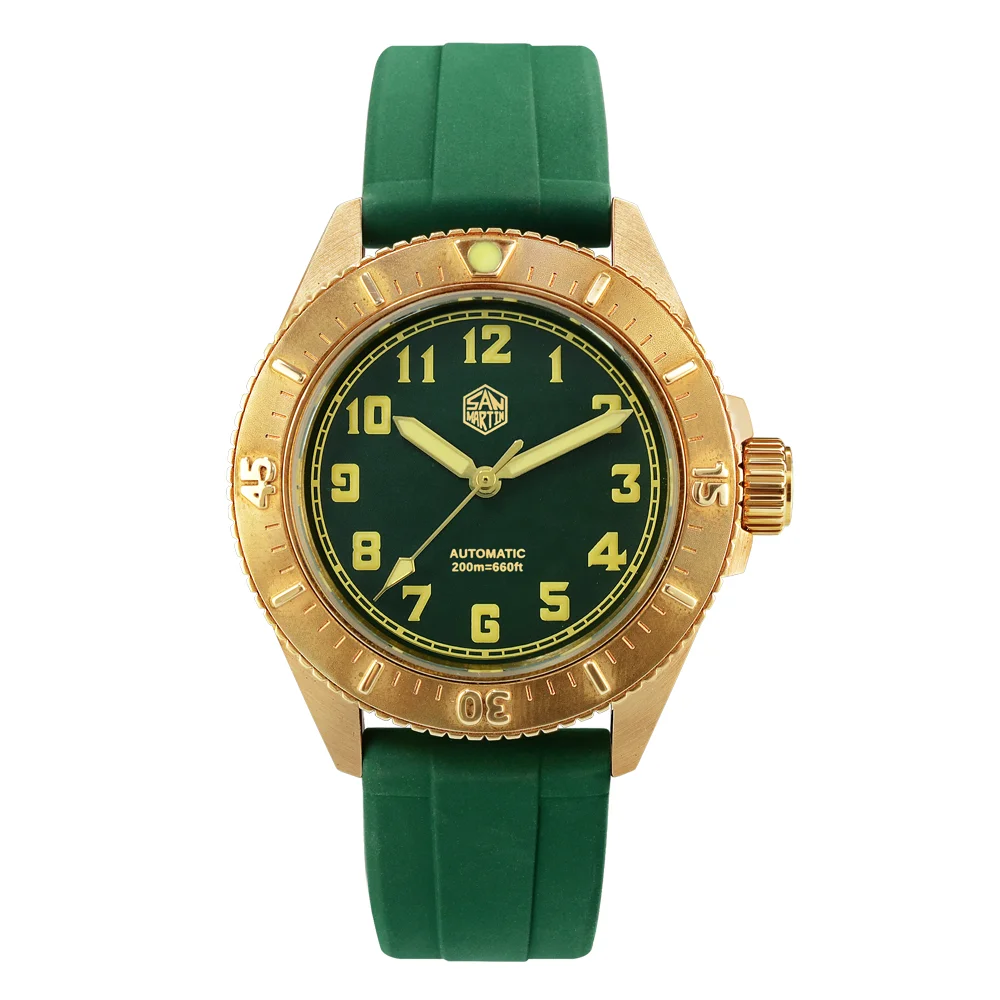 Watch Specification:
Model: SN040Q
Movement: imported SW200 movement and domestic PT5000 movement [automatic mechanical movement]
Case: Material - Tin Bronze
Mirror: Sapphire crystal + anti-reflection coating
Bezel: Bronze chronograph scale
Disk: black/blue/green [customizable logo]
Pointer: copper needle, filled with luminous
Luminous: Retro Luminous (Luminous Color: Green)
Crown: screw-in
Bottom cover: screw-in three-dimensional hydraulic bottom cover
Strap: Professional diving tape, width 20mm
Watch Dimension:
Case diameter: 40mm(without crown)
Case thickness: 13mm
Lug width:20mm
Weight: about 110g