Today, I would like to introduce our new SN0013 to you. The watchmaking time is getting longer and longer, and some new styles are appropriately added. At first, it was suitable for diving styles, and now it is appropriate to start adding sports styles. When it comes to the most representative brand series in sports style, what style do you think of? Audemars Piguet's Royal Oak and Seiko GS (crown blue lion) should be listed!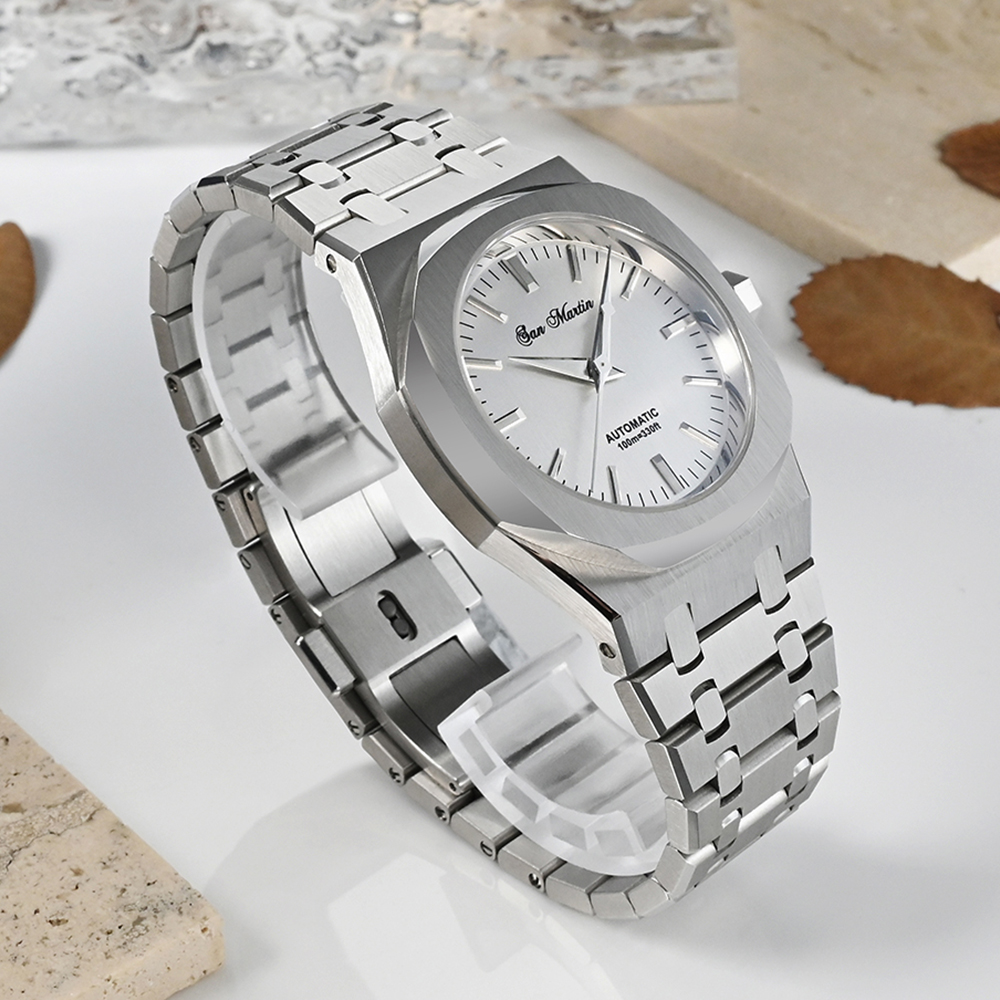 The San Martin SN013-G 38.5mm Luxury Men Watch is based on the style of the two, combined together to inform and add some detailed elements that have been modified by myself. The case is the same as the Royal Oak. The bezel has changed its appearance design from the original equilateral octagon to a special-shaped octagon. The 3, 6, 9, and 12 directions are polished and polished with protruding bevels, the front is straightened with sand, and the bezel The side straight body is made of round sand; the bar is still in hexagonal shape, echoing our hexagonal logo; the case flat is straightened, the ear surface is straightened, and the plane and the ear surface meet directly and clearly; Straight sand process, the two joints correspond to the joints of the bezel (the most difficult part of polishing this case, it is necessary to ensure that the joint lines are clear and aligned with the circle lines), and the ear surface and the body are polished with small bevels.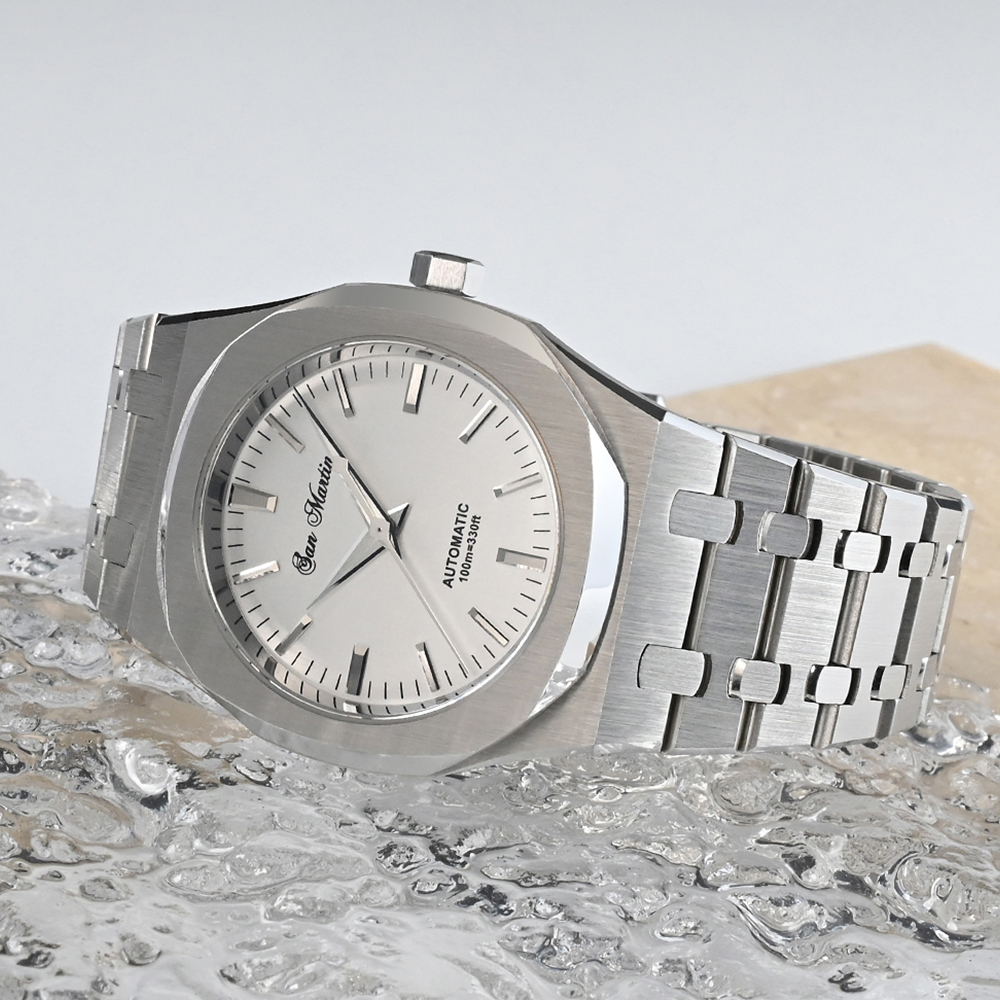 The hands are made of Seiko GS's classic 5-sided batch flower toffee needles, and the dial hour markers are made of GS's classic "coffin nails". It is worth mentioning that the domestic processing and production technology is indeed very good. I dare not say that it is consistent, but Getting to 90% should be fine. The process of drawing sand on the front and bevel batching flowers is bright enough and clear enough.
I have always wanted to try to make the style of Royal Oak before, but the process is more complicated and I am afraid that it will not be able to achieve the effect. Combined with the most representative gs needle surface effect, I personally think that there are not many collocations.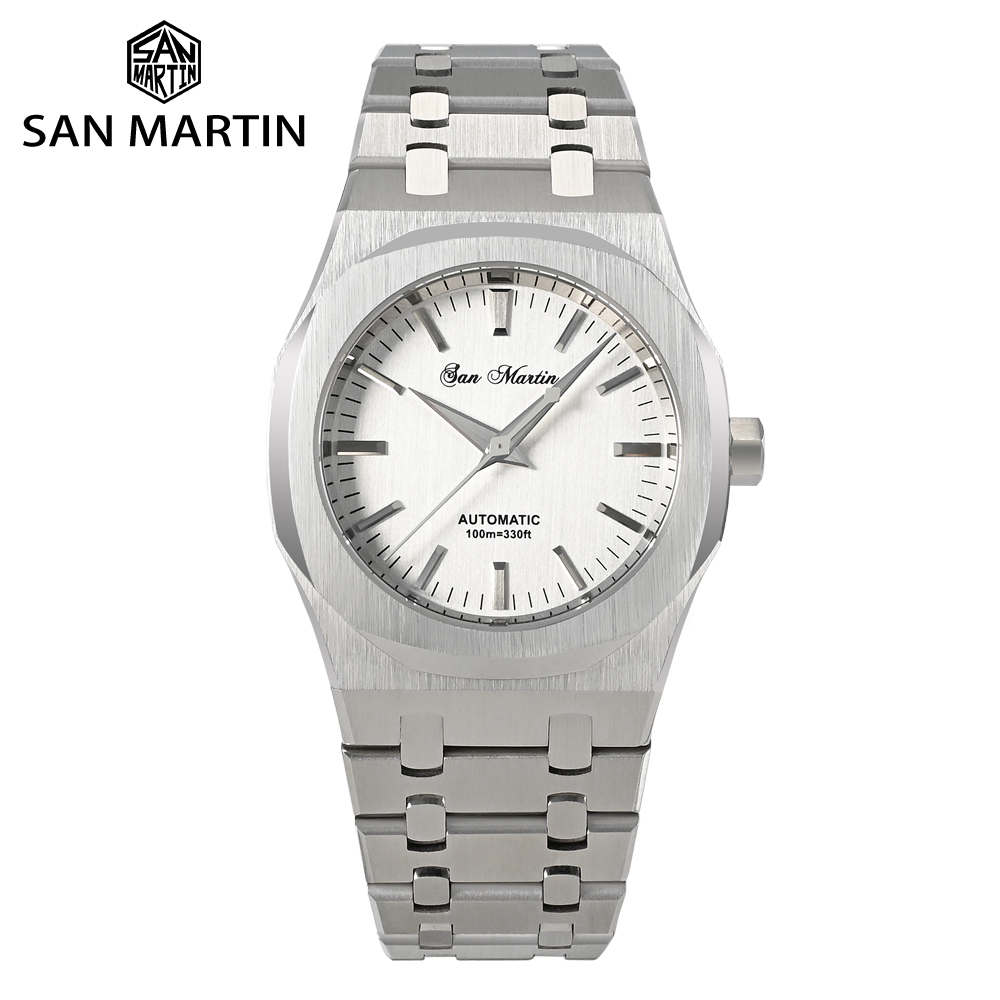 Watch Specification:
Brand Name: San Martin
Model Number: SN013-G
Movement: Miyota 9015 [Automatic mechanical movement]
Band Length: 7.1inch
Case Material: 316L Solid Stainless Steel
Case Shape: Round
Dial Window Material Type: Sapphire Crystal
Boxes & Cases Material: plastic
Item Type: Mechanical Wristwatches
Band Material Type: Stainless steel
Sapphire Crystal Glass: AR Coating
Dial Color: Silver Brushed Dial, 3D Hour Markers
Hands: Middle Brushed, 5 Cutting Surface Craft Sword Hands
Water Resistant: 10Bar=100 meters
Watch Dimension:
Case diameter: 38.5mm(excluding crown)
Case length: 48mm (lug to lug)
Case thickness: 9.5mm
Lug width:20mm
Band Width: 26mm
Weight: about 160g