Today I would like to share with you a bronze diving watch that has been made for a long time. This watch can be said to be the longest one in my own watchmaking in the past few years. ) It lasted more than half a year. Fortunately, the quality is still very satisfactory. To comfort myself, expectation is always good.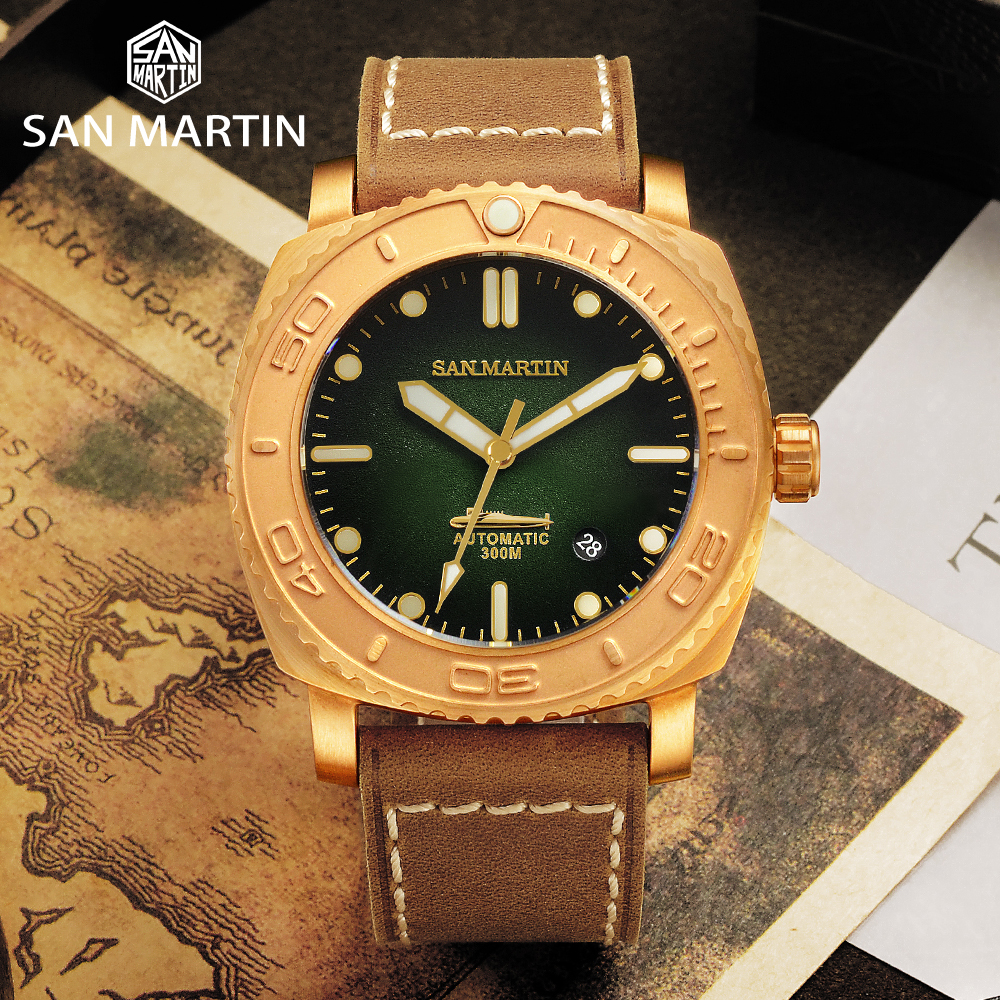 Specifically, let's talk about the San Martin SN078-Q craftsmanship and details of this section:
1. The San Martin SN078-Q size of the case is still 44mm. On the basis of the original, it is appropriately thickened by 1mm to adjust and optimize the ratio; the bridge design is cancelled, and the thick tooth is made in a tough style; the side teeth of the chronograph ring are also changed to a thick tooth and tough style, and the font on the front is also changed. Do embossing effect (what everyone says is engraving); compared to the previous shell type, it retains the military style and has a new feel.
2. The dial also chooses three colors, adding gradient effect and fire pattern effect, which is more textured (in line with military style); 12 metal nail English logo + 6-point submarine metal logo three-dimensional effect, metal nail hour markers are filled BGW-9 luminous (BGW-9 emits blue light, before it was a retro-effect yellow-green light).
3. The style of the hands is still the same as before. I personally feel that the style of the hands is still very harmonious. The craftsmanship is upgraded to GS with the same craftsmanship effect, and the second hand is covered with a flat-top seconds cap.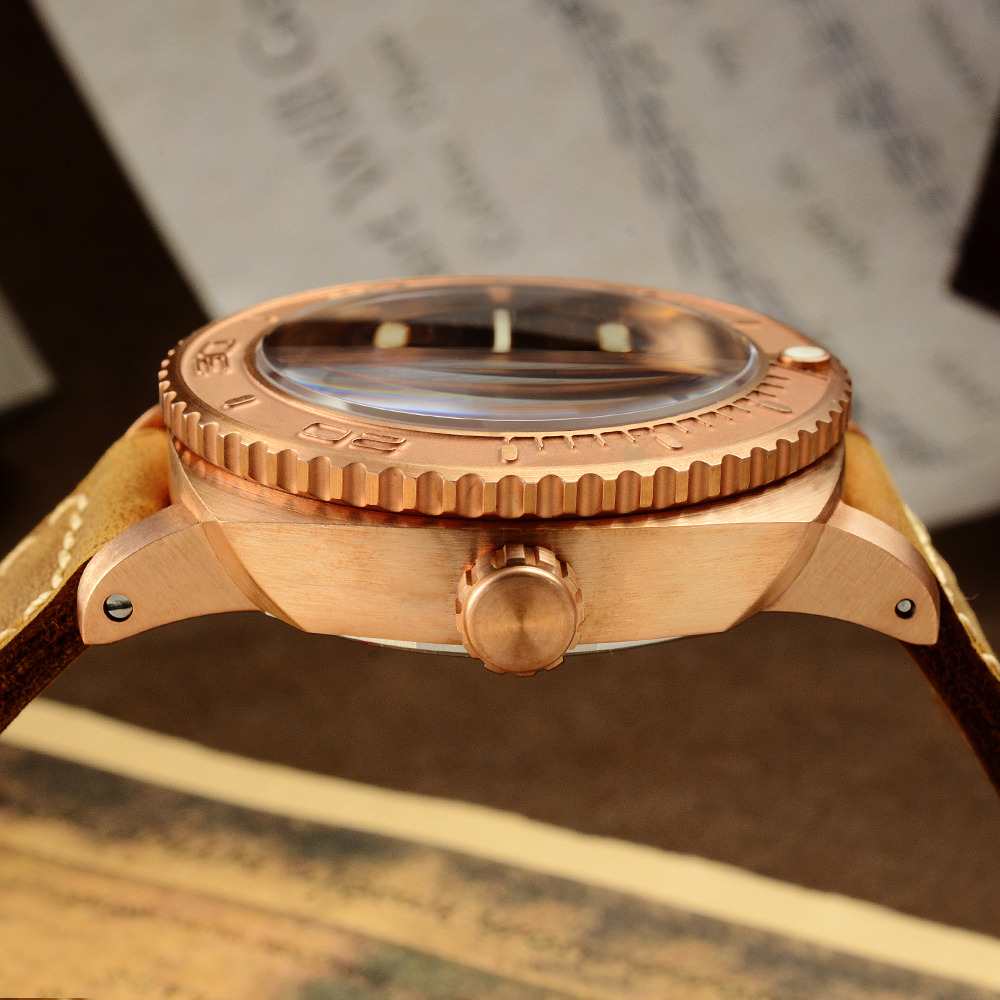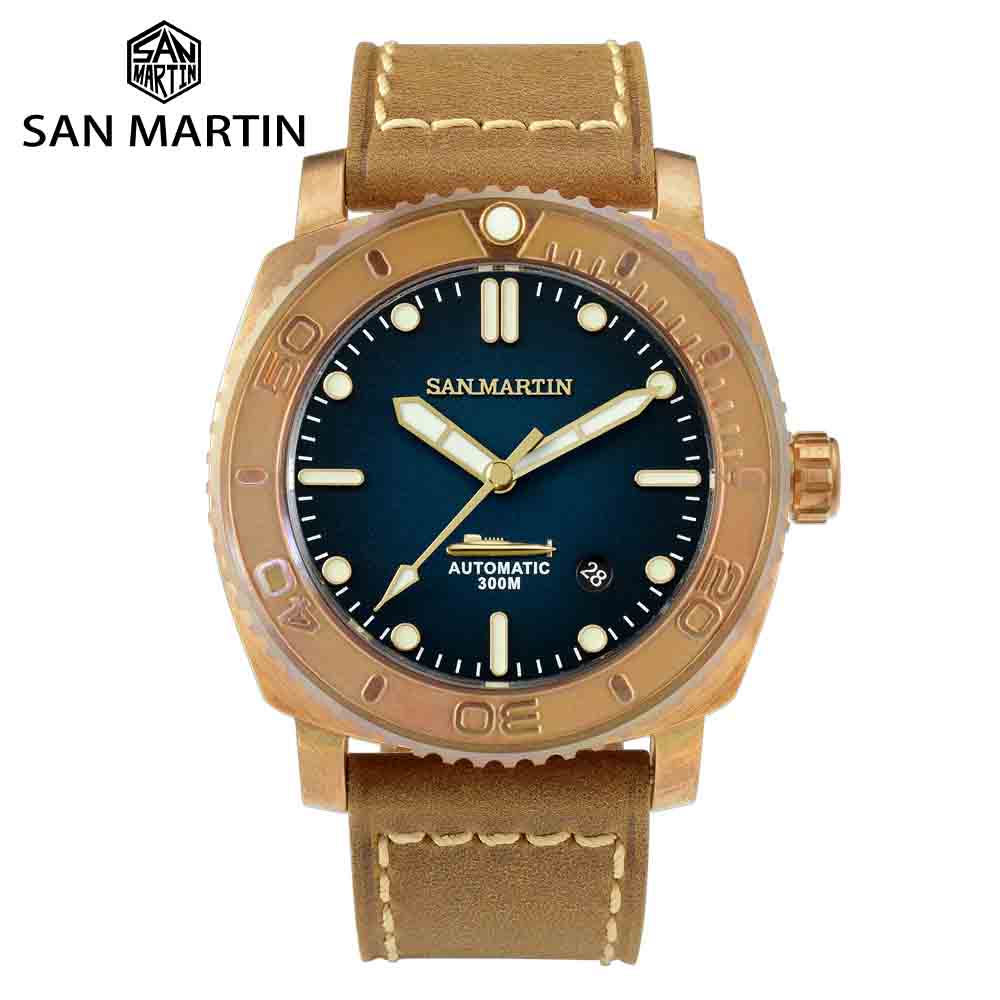 Watch Specification:
Brand Name: San Martin
Model: SN078-Q
Movement: PT5000 / SW200 [Automatic mechanical movement]
Case: Material-CuSn8 Solid Bronze
Glass: Both Side Curved Sapphire Crystal Glass + Blue Light AG Coating
Dial Color: Gradient Blue, Gradient Black, Gradient Green, + 3D Applied Bronze Logo
Bezel: 120 Clicks Unidirectional Chronograph CUSN8 Bronze Bezel,12 o'clock Luminous
Scale
Hands: Sword Hands , Luminous
Luminous: BGW-9 Blue Light, Hands and Markers
Crown: CuSn8 Buckle Screw-down Crown
Case Back: Screw-down Case Back, Brushed Process
Strap: Top Cowhide Strap, Beige Stitching, Width 24 * 22mm
Clasp: CuSn8 Solid Buckle
Water Resistant: 30Bar=300 meters
Watch Dimension:
Case diameter:44 mm (without crown)
Case length: 51mm( lug to lug)
Case thickness: 15mm
Lug width 24mm
Weight: about 150g