Hello everyone, today I would like to share with you the introduction of SN0005G-2. This is the third time I have done it. The first time was when I was doing it for 18 years. The second time was when I was doing it for 20 years. Upgrade every two years. As I said the most, try to make the product well in different cognitions. Looking back now, I feel a lot of emotion from the previous two actions, which can be regarded as my own testimony on the road. The style is based on the original Rolex GMT style 6542. I personally appreciate and like a style. Compared with the red and blue circles of the modern Rolex, I think the 6542 with modern craftsmanship has a retro effect. So I did it again and again. In fact, from the perspective of sales, the sales were not ideal. In 2018, it should have made 200, and in 20, 300, and there are still some fractional inventory. This time I did it because I liked it more subjectively.
Let's talk about some of the places where the upgrade is done for the second time. In fact, the polishing level of the case in 2020 is relatively high and it is similar to the current comparison. The improvement is that the design collocation and polishing awareness are higher. The following describes the improvement in detail
1. The structure of the bezel, this time it is a 24-tooth two-way rotating structure. The second time this structure is not mature, it is made according to the one-way rotating structure of the diving watch. (Theoretically, the one-way rotation structure is wrong)
2. The proportion of the shell ring, the bezel made the second time is thicker, the bezel is thinner and the case is thicker, and the side proportions are more harmonious.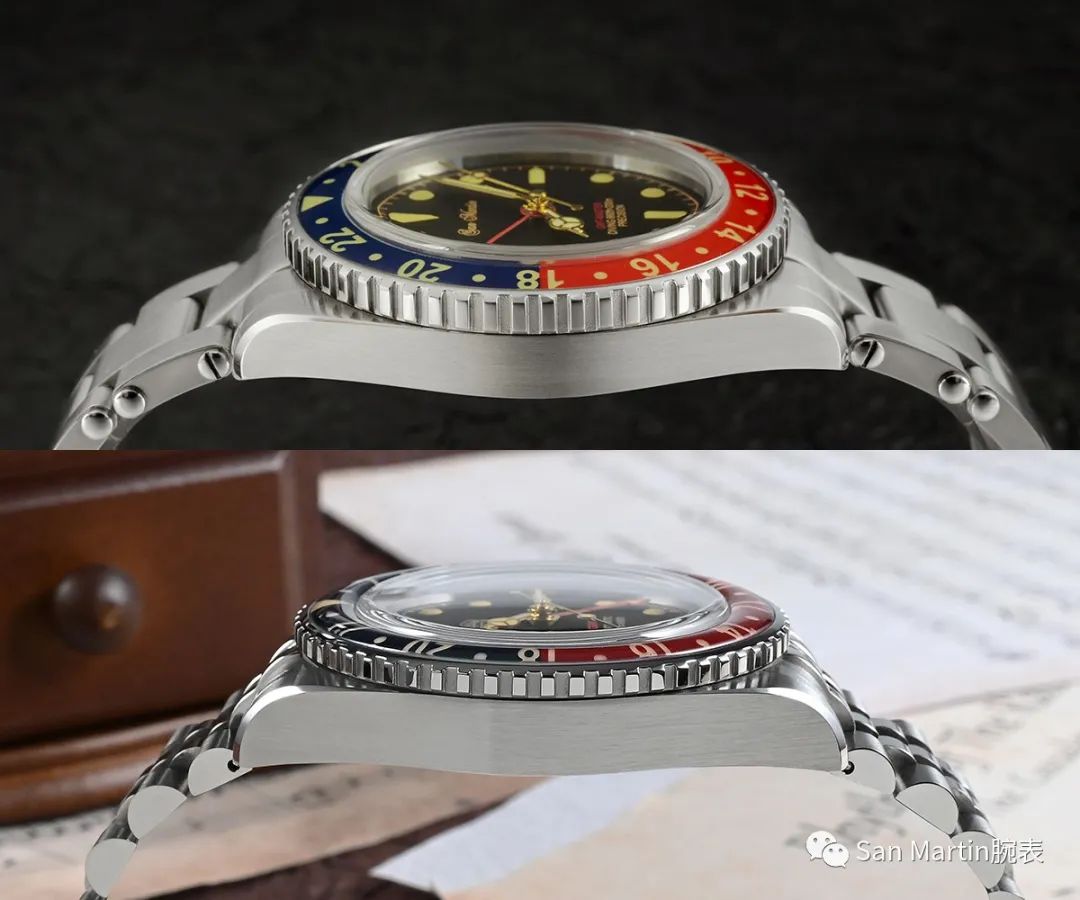 3. The color of the bezel, the color of the second time is too light, and the retro charm is not enough. This time, the blue and red are deepened accordingly, which is more retro.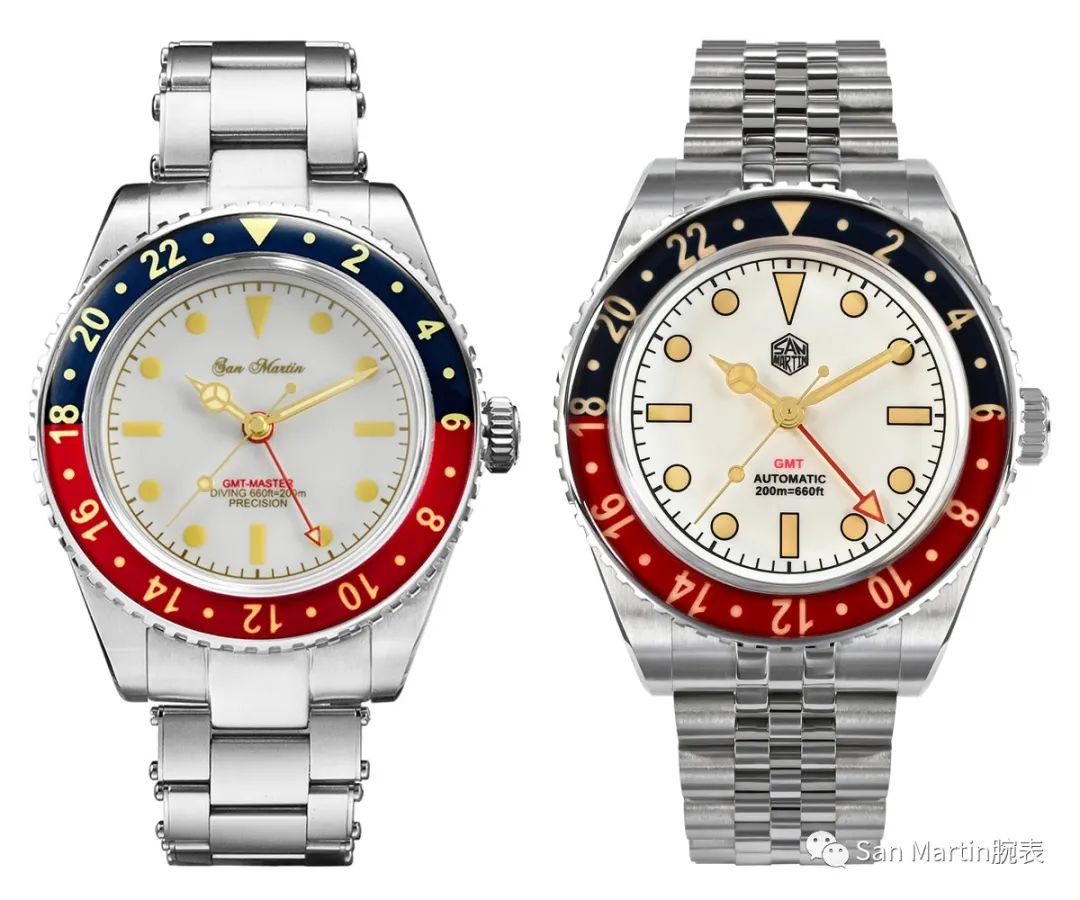 4. Dial, the logo of Ba. In the past, there may be several logos on one watch, but now the dial and the logo of Ba are unified into a hexagonal logo.
5. The strap buckle, the second strap is a rivet strap made with reference to the original effect, this time it is a 5-bead strap effect made by asking everyone's opinions (this is not an upgrade, it depends on personal aesthetics), the buckle is replaced by yourself New clasp made of mold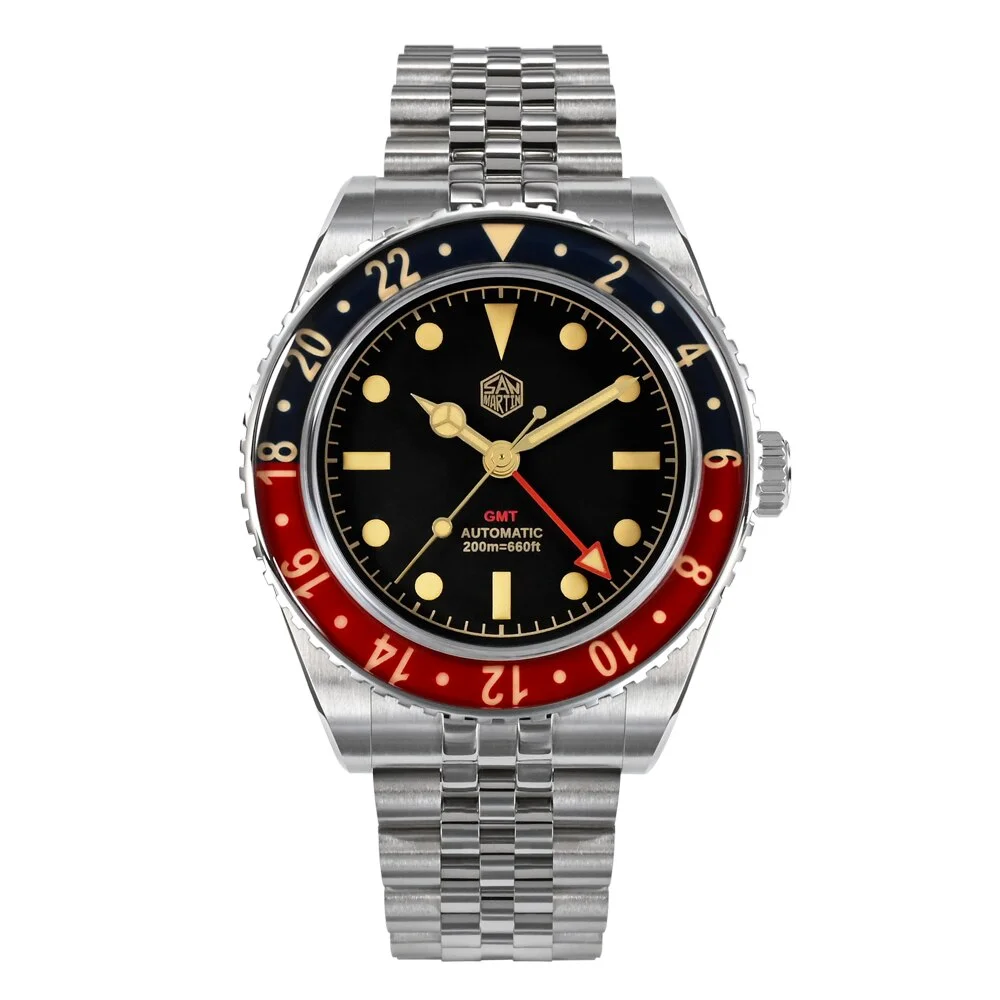 Watch Specification:
Model: SN0005-GMT-2
Movement: Hangzhou 6460 [Automatic mechanical movement]
Jewelry: 25, Frequency: 28800/h
Glass: Sapphire Crystal Bubble Glass, AR Coating
Bezel: Bidirectional 24 Clicks Bezel, Vintage Red & Blue Sapphire Glass Bezel, Full Luminous Markers
Dial Color: Matt Black,Enamel White
Hands: Classic GMT 4 Hands, Luminous Coating
Luminous: Vintage Full Luminous Effect SLN C3 Green Light, Bezel and Hands and Markers
Crown: Screw-down Crown, With 3D Hexagonal Logo
Case Back: Screw-down Case Back, Circle Satin Brushed Process
Strap: 316L Stainless Steel 5 Links Bracelet
Clasp: Folding Clasp With Safety,With San Martin Hexagon Logo
Water Resistant: 20Bar=200 meters
Watch Dimension:
Case diameter: 40mm( without crown)
Lug length: 48.5mm (upper lug to lower lug)
Case thickness: 13mm (including mirror)
Lug width:20mm
Weight: about 143g