Hello! Guys!
Recently we launched the watch SN0111T made of Grade 5 titanium, which is our production challenging new materials and exploring technology. In order to facilitate customers to compare and intuitively feel, we adopt the classic diving watch design. It's just a matter of material difference.




Although there are far fewer titanium watches on the market than steel watches, there are many styles to choose from, most of which use GR2 titanium and are treated with sandblasting.
Among the grade 5 titanium watches, some models only use GR5 titanium for certain parts, and even fewer use GR5 titanium for the entire watch.
So our objective at the beginning was very radical: Make a watch all with GR5 titanium! Case, bracelet, case back, fly adjustable clasp, all use GR5 titanium! Only use sanding and polishing process!

Obviously, setting overly ambitious goals has caused us a lot of trouble, with production costs constantly rising and a significant amount of time being consumed. We decided to change the case back and clasp to GR2 titanium with more mature processing technology, but the case and bracelet must be made of GR5 titanium, otherwise this watch will be meaningless!




In the end, after spending 12 times more time than the usual new product, we brought this watch before everyone's eyes.
.
.
GR5 titanium is a watchmaking material that has not yet entered the public's field of vision.
GR5 titanium has higher hardness and heat resistance than GR2, and is widely used in the aerospace industry. It also has better biocompatibility, making it favored by the medical industry.

AEROSPACE
The hardness of GR5 titanium is larger than GR2.
The Hardness of HRC of GR5 is generally between 31~35, which is significantly higher than GR2.
GR5 is more resistant to wear than GR2 ,due to its high hardness. GR5 can sometimes be used as an abrasive.
There is a large difference in physical performance.
GR5 tensile strength ≥895MPA,Yield strength ≥825MPA,
GR2 tensile strength ≥400MPA,Yield strength ≥275MPA.
The mechanical properties of GR5 are significantly higher than that of GR2.




GR5 titanium, also known as TC4 titanium, has a composition of Ti-6Al-4V. It is an α+β type heat-resistant titanium alloy that can work for a long time below 500℃. Not only does it exhibit high instantaneous strength at high temperatures, but it also has sufficient plasticity.

GR5 titanium can work for a long time below 550°C, but the GR2 working environment should be less than 150°C, more than 150°C, both corrosion resistance and mechanical properties are greatly reduced.

It has good weldability in terms of sheet formability and forging performance. It is used to manufacture various load-bearing components in aircraft structures, such as compressor blades and impellers for jet engines, landing gear wheels and structural parts, fasteners, brackets, aircraft accessories, frames, purlin structures, and pipelines. Its applications are extremely extensive.





MEDICAL
GR5 titanium has better biocompatibility than GR2 titanium and can meet higher requirements for applications such as medical devices.
Ti-6Al-4V is the mainstream titanium alloy material for implants, and there is no connective tissue bond between the implant and bone tissue, forming a very good bone union. Its sales account for more than 80% of the entire global biomedical titanium alloy market.




Due to its low thermal conductivity and high chemical reactivity, TC4 titanium has a rapid increase in temperature at the cutting edge during cutting, which can easily cause tool wear. Grinding can cause burns, ripples, and deformation, making sanding or polishing more difficult than sandblasting.




Watches made of GR5 titanium will be more expensive than those made of GR2 titanium, and it is difficult to predict how many people will be willing to accept this.




However, We believe that watches with better materials will definitely bring more enjoyment to you guys in the future.Therefore, we insist on exploring and improving the processing technology of GR5 titanium, so that that day will come sooner.

I believe that you can feel our dedication.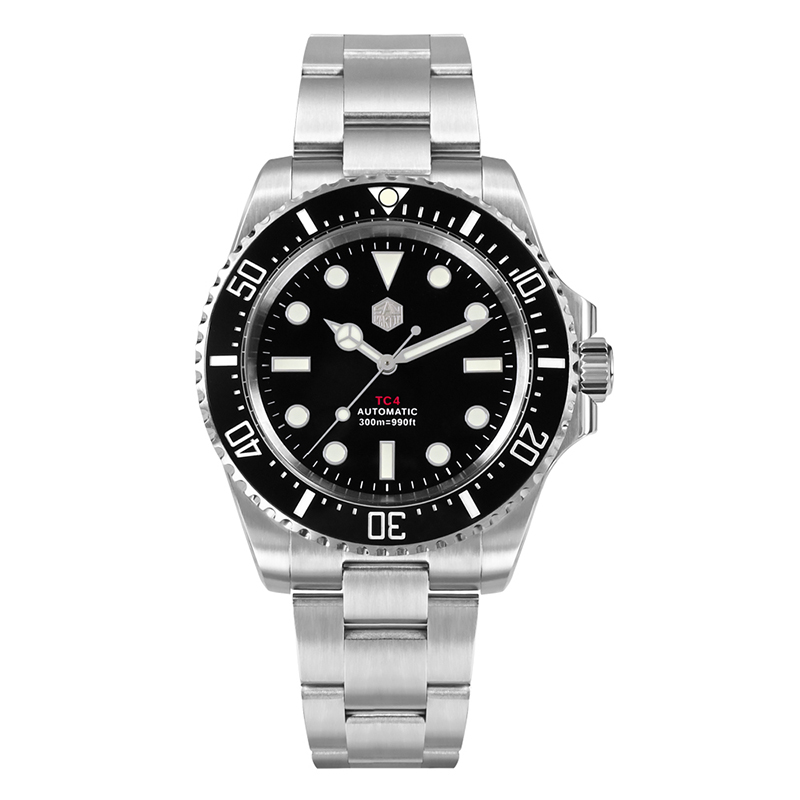 San Martin 40mm GR5 Titanium Men Diving Watch SN0111T
Watch Specification:
Brand: San Martin
Model: SN0111-T-A1
Movement: PT5000/SW200 [Automatic Mechanical Movement]
Is Support Custom Logo: No
Case: Material -- Grade 5 Titanium
With Helium Escape Valve
Glass: Sapphire Crystal Glass, No Cyclops, AR Coating
Bezel: Unidirectional Ceramic Bezel, 12 O'clock Luminous Markers
Dial Color: Enamel Black, 3D Hexagon Applied Logo
Hands: Sword/Classic Hands, Luminous Coating
Luminous: BGW-9 Blue Light, Hands and Markers
Crown: Screw-down Crown, With 3D Hexagon Logo
Case Back: Grade 2 Titanium Screw-down Case Back, Brushed Process
Strap: Grade 5 Titanium Bracelet, Brushed Front, Polished Side ,Width 20mm * 16 mm
Clasp: Grade 2 Titanium Folding Clasp With Safety, New Fly Adjustable Clasp,With San Martin Hexagon Logo
Water Resistant: 30Bar=300 meters
Weight: about 103g
Watch Dimension:
40mm in diameter
With Drill Lug Holes
Lug to Lug 47.5mm
Thickness 13.2mm
Band width 20mm